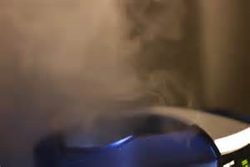 Jamestown, IN (PRWEB) March 25, 2014
The winter heating season is coming to an end, and with all that arid air circulating about usually come the side effects of dry skin, scratchy throats and static electricity. Luckily, when seeking geothermal heating residents can combat the dry air by adding moisture with superior humidifying capabilities and a home humidifier. According to Home Comfort Geo, having the proper humidity level at home offers a homeowner several benefits.
Besides providing a more comfortable living space, a home humidity level of 35-45% provides enough moisture in the air to alleviate nose and throat irritation, which in turn, could prevent colds and other illnesses. It also makes the home feel warmer and allows the homeowner to save energy (and money) by being able to turn down the thermostat a few degrees without sacrificing comfort. Houseplants will also welcome the humidity and grow; hard-wood floors will be less likely to contract and separate at the seams; and wallpaper won't separate and peel.
There are several options for purchasing a home humidifier – from small space units that can easily be purchased at a home improvement store, to others that are professionally installed into an existing HVAC system. Before purchasing, it is best to consider the family's needs and have a budget that includes not only the purchase cost, but also the operating and maintenance cost. Your local HVAC company can help you assess your needs and lead you in the right direction.
For more information about humidifiers, geothermal systems' superior humidifying capabilities, or for general maintenance and geothermal heating repair, Jamestown Indiana homeowners rely on the experts at Home Comfort Geo.
About Home Comfort Geo
Home Comfort Geo is the leading source for geothermal statistics, technology, and innovation. Our dealers proudly serve residents throughout Illinois, Indiana, Kentucky, and Missouri.