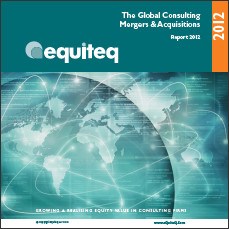 Equiteq's input was indispensable throughout the journey, right through to completion
London (PRWEB UK) 28 November 2013
Equiteq is a consulting sector merger and acquisition specialist, providing both growth advisory and M&A transaction services to the global consulting industry. Equiteq acted as lead advisor to WD Scott in the execution of the transaction.
David Power, CEO of the acquired firm, said:
"FTI is the ideal partner to take the company forward and we are delighted that our professional consulting staff are joining FTI's global insurance practice. We are grateful for Equiteq's advice and support during the sale process - their input was indispensable throughout the journey, right through to completion."
Commenting on the synergies, Paul Collins, Managing Partner at Equiteq said:
"Distinct brings deep industry expertise and intellectual property in the form of proprietary data analytics tools focused on customer patterns and profit levers. FTI brings a global platform. Together they have the capability to offer an enhanced value proposition to more clients internationally and particularly the USA, which is home to the largest Insurance market in the world."
For more information and media enquiries, contact Tony Rice of Equiteq on +44 203 651 0607 or tony.rice(at)equiteq(dot)com. Visit http://www.equiteq.com/report to download the latest Global Consulting M&A Report.
About Equiteq
Equiteq is a consulting sector M&A specialist. We work with consulting firm shareholders, helping them to achieve their growth objectives and exit strategies. Our services are designed to deliver fast returns for our clients, by accelerating revenue, profit and equity value growth, and ultimately realizing that value in a trade sale or other equity liquidity event. If any of these objectives are on your agenda, then please contact us.