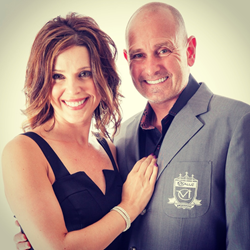 GJ Reynolds also shared, "A new chapter in our Vi story is coming—our best one yet. Help us write it at Vitality."
Lincoln, NE (PRWEB) September 09, 2014
ViSalus 5 Star Ambassadors and Vi Millionaires Alita and GJ Reynolds announce they are attending the global celebration of life, health and prosperity at the ViSalus Vitality event In Houston, Texas on the Simply G Media Network.
On September 12 & 13, 2014 ViSalus 5 Star Ambassadors and Vi Millionaires Alita and GJ Reynolds are traveling to Houston, Texas for ViSalus' global celebration of Life, Health and Prosperity.
One of the biggest launches at the event will be the unveiling of four original items in a new product category for the company. ViSalus Co-Founder and CMO Blake Mallen will explain the marketing, tools and social campaign supporting the new items, which are designed to completely change how people eat and make goal-setting tastier and more convenient.
"These products will help individuals on The Challenge 'lose it' or 'build it' with options that make healthy eating part of their everyday lifestyle, rather than a diet," said Mallen.
Pre-launch excitement has already been gaining momentum via clues provided as part of Vi's #whatsinthebox social campaign. Followers on 1SimplyG and ViSalus' Instagram accounts are tracking the clues as they are revealed and guessing 'what's in the box' that will be opened at Vitality. Alita Reynolds shared, "It will be unlike anything you have ever experienced. Be there for the event of the year when thousands of Promoters from all over the world come together to discover where Vi's going next."
GJ Reynolds said, "Life is a story and we all have one. I am excited for everyone who attends will learn from some of the industry's top leaders and mentors. We encourage people to choose a direction. Walk the path and to create new Vi Warriors, Heroes and Champions. Vitality is a fun celebration and, more importantly, it is a time to reflect on our accomplishments and the impact we are making on the world… 10 lbs. at a time. Our celebration can be seen every day in people living healthier and happier lives."
GJ also shared, "Think about what you are able to add to your next chapter? I encourage people to create an inspirational one. A new chapter in our Vi story is coming—our best one yet. Help us write it at Vitality."
According to Simply G Media Network, the featured speaker is John C. Maxwell. Those in attendance are able to learn from the world renowned leadership expert and best-selling author!
SCHEDULE OF EVENTS
THURSDAY, SEPT. 11 (5-STAR AMB+ ONLY)
3:00 pm – 5:00 pm | 5-Star Ambassador+ meeting
8:00 pm – 11:00 pm | Ambassador+ Party
FRIDAY, SEPT. 12
9:00 am – 12 Noon | Ambassador+ meeting (AMB+ Only)
1:00 pm – 4:00 pm | Regional Director+ meeting (RD+ Only)
1:00 pm – 4:00 pm | Workshops & Training Breakouts
5:00 pm – 11:00 pm | General Session
SATURDAY, SEPT. 13
9:00 am – 7:00 pm | General Session
Location:
George R. Brown Convention Center
1001 Avenida de las Americas
Houston, Texas USA 77010
Reynolds added, "Each and every ViSalus event is put together to provide each ViSalus Promoter with the most empowering information and inspiration available in the industry today. Get ready for an empowering journey... Please note that all ViSalus event registrations are non-refundable and non-transferable. This event may also be videotaped. By attending, attending parties grant ViSalus the right to use individual's voice and/or likeness and photographs in advertising and promotion materials.
GJ said, "Myself, Alita and our entire ViSalus Community are on a mission to Challenge the World…10 lbs. at a time! This is a rare opportunity to see all three Founders and leaders in one place, at one time—this September 12- 13, 2014, in Houston!"
For more information please visit http://www.simplyg.com.
###
ViSalus was founded in 2005 with headquarters in Los Angeles, CA and Troy, MI. ViSalus is the company behind the PROJECT 10™ Challenge, personal health and lifestyle transformation platform. ViSalus champions personal victories and entrepreneurship through a social marketing model, premium products, and supportive global community. For more information about ViSalus, please visit vi.com and follow the Vi Community.
GJ Reynolds is a former US Army Sergeant and an original founding member of ViSalus and is now a 5-Star Ambassador, Vi Millionaire with ViSalus, and CEO of Simply G Media. He has written a book titled The Playful and Powerful Warrior Within You! and holds the distinction of completing the Dale Brown Challenge by working out for over 1000 days straight. Reynolds is active on the Project 10 Challenge and is having continued success. He is also ranked in the top ten percent of people in social media.
Simply G Media Network was founded in 2012. Simply G Media Network has a syndication of 100 plus stations and countries. Syndication is on both terrestrial and internet based stations. Simply G Media Network also has its very own call sign, WSG-DB (Simply G Digital Broadcast) and has a rapidly growing global listening audience.