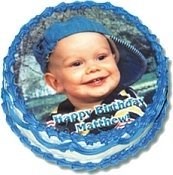 Winchester, VA (PRWEB) November 26, 2013
Thanksgiving is a time to stop the hustle and bustle of our daily lives and rejoice in the blessings that have been bestowed upon us.
I am truly humbled by the blessings that God has bestowed upon me and my company. In the last 14 years, I have been personally blessed by the family of customers that we call Icing Images. The cake decorating business is one that is very unique as it is based upon celebrations and joy that are expressed through the works of art that you create for your customers. We are blessed to be a part of such a wonderful industry that brings joy and smiles to so many.
Thank you for allowing me to be a part of the joy that you bring to your customers and the pride you take in allowing us to help you in creating amazing works of art!
In addition, I am truly blessed for the people who have had their hands in making what I feel is a successful company, marking success one smile at a time.
So I am thankful, so very thankful that you have allowed us to be a part of your smiles, your customers' smiles and your lives.
Eat well, enjoy your family and I truly thank you for being a blessing to my company.
Godspeed,
Deborah Coughlin
Owner
Icing Images
Icing Images has been a leading distributor of edible pictures and edible paper art supplies for over a decade. Edible picture supplies such as edible image printers, edible ink, icing sheets, and electronic and die cutters are used by cake and confection decorators throughout the world.
Customer Appreciation Sale:
Save $50 off any printer system. Enter coupon code: BFPRINTER at check-out
Free Shipping on orders over $125. Ground shipping, Continental U.S. orders. Enter coupon code: BFSHIPPING
Both offers good from 11/29/2013-12/01/2013.