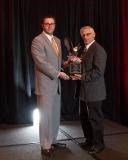 Worcester, PA (PRWEB) November 26, 2013
American Infrastructure, a leading heavy construction company and materials supplier, today announced that its Allan A. Myers division received the Associated Builders & Contractors (ABC) Eastern Pennsylvania Chapter's Award of Excellence for its Pennsylvania Turnpike new electronic interchange project at Exit 320 in Great Valley, Pa. Phil Scala, superintendent at Allan A. Myers accepted the award on behalf of the team at the Chapter's 22nd Annual Awards of Excellence banquet on November 14.
"This was an important project for our company and to be recognized by ABC with an Award of Excellence for it makes the hard work and dedication of our team that much more rewarding," said American Infrastructure's Chairman and CEO, A. Ross Myers. "This project took significant collaboration among federal, state, and local government organizations, as well as subcontractors and other parties and also had a number of environmental and weather-related challenges. Our team should be extremely proud of being a part of this project where safety, the environment, and high quality were top priority and where they were able to ease the traffic burden for so many travelers."
The project was a new four-way, all-electronic (EZ-Pass) Interchange designed to help alleviate the traffic congestion in the Great Valley area, where more than 50,000 motorists travel each day. The project included widening the Turnpike for three-quarters of a mile in both directions, construction of four bridges, and much more. The project encompassed three townships, and required significant coordination and cooperation to complete. Environmental considerations were a priority for many years before the ground was broken and sound environmental principles were used throughout the construction process.
About American Infrastructure
American Infrastructure is a vertically integrated, heavy contractor and construction materials supplier that performs work throughout the Mid-Atlantic region, with offices in the Philadelphia; Baltimore; Washington, D.C.; and Richmond markets, as well as five satellite offices from Pittsburgh to Williamsburg. The company also presently has 15 materials mining and/or asphalt production facilities in four states. Presently employing 1,800 people, American Infrastructure is ranked by Engineering News-Record at number 25 on the country's Top 50 heavy civil contractors. For more information, visit http://www.americaninfrastructure.com.