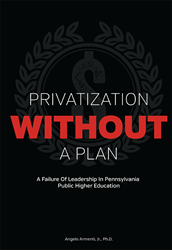 The greatest problem is not privatization itself, but the lack of a viable plan for dealing with it.
Chesterbrook, Pennsylvania (PRWEB) December 02, 2013
In his new book, Privatization Without a Plan: A Failure of Leadership in Pennsylvania Public Higher Education, author Angelo Armenti, Jr. describes what privatization has been doing to students and the 14 PASSHE universities in Pennsylvania, which include Bloomsburg, California, Cheyney, Clarion, East Stroudsburg, Edinboro, Indiana, Kutztown, Lock Haven, Mansfield, Millersville, Shippensburg, Slippery Rock and West Chester.
The 21 charts in the book are based on "public" information that is, on data generated with the use of taxpayer funds, making those data available to any citizen through requests under Pennsylvania's Right to Know Law. Armenti claims that evidence for the actual privatization itself is simply overwhelming.
According to the book, 30 years of compelling evidence for the actual privatization of the PASSHE universities by the State is seen in those charts, whether measured by: 1) the State's plummeting percentage share of PASSHE's budget (63% to 25%); the evaporating purchasing power of the State's appropriation per FTE Student as measured in "constant dollars," ($7,386 to $3,679); or PASSHE's shrinking percentage of the State General Fund Budget during that time (2.94% to 1.49%). Taken together, these facts establish beyond any doubt that the PASSHE universities are being privatized.
As to the reasons behind the privatization, Armenti's book includes his op-ed entitled "Lacking Enough State Support," published by the Chronicle of Higher Education² in 2008, which states that privatization of the PASSHE universities over the previous twenty-five years had "proceeded under both Democrats and Republicans," meaning that the relentless defunding by the State was not a partisan issue but rather, a politically fundamental one, suggesting a powerful "will of the people," i.e., demographic issue.
Armenti searched for a demographic basis for the defunding of public higher education and found what he described as the 'smoking gun' accounting for the privatization trend, not just in Pennsylvania but in a growing number of states across America. In the Chronicle piece, he described how, in the 1950s and 60s, the majority of households in America included at least one person 18 years of age or younger—that is, someone who could benefit directly from public higher education. He then noted that, as of the 2000 U.S. Census, only one in three households (34%) included someone 18 or younger. Then, in his book, he noted that by the 2010 U.S. Census, that percentage had fallen even further to 30%.
In a representative democratic republic like America, according to the book, it logically followed that support for public colleges and universities would become less of a State budgetary priority as soon as elected officials of both parties realized: 1) that the majority of voting households in America could no longer benefit directly from public higher education; and 2) that the voters living in those households almost certainly didn't want their taxes raised to send someone else's son or daughter to college.
As seen in the 50% drop in PASSHE's share of the State General Fund Budget, basic economic issues played a critical role in the privatization of the PASSHE universities long before the global financial crisis hit in 2008. But that crisis clearly aggravated an already troubled financial situation by making the entire funding pie smaller, thereby adding pressure to make all, or mostly all, of the funding slices smaller.
PASSHE's drop in funding resulted from the State's conscious decisionᶟ to give a smaller funding share to public higher education (and other categories) so that a larger share could be given to the only two State budget categories that actually saw increases between 1990 and 2011 (Corrections: 2% increased to 3%; Medicaid: 12% increased to 32%). These funding patterns support the demographic premise that the decline in the number of households with children 18 or younger, aligns with the notion that elected officials listened carefully when the majority of Pennsylvania voters made it clear that their primary concerns involved crime and health care, rather than public higher education, an unsurprising outcome in a rapidly ageing America.
During that same 21-year period, all other budget categories fell: K-12 (23% decreased to 20%); Higher Education (7% decreased to 3%); Cash Assistance (6% decreased to 2%); Transportation (13% decreased to 9%); and All Other (38% decreased to 31%).
¹ Privatization Without a Plan: A Failure of Leadership in Pennsylvania Public Higher Education is on sale now, available from Amazon.com in paperback and e-book. http://www.amazon.com/s/ref=nb_sb_noss?url=search-alias%3Daps&field-keywords=angelo%20armenti.
² https://www.keepandshare.com/doc/6716809/chronicle-of-higher-education-op-ed-october-2008-159k?dn=y&dnad=y
ᶟ https://www.keepandshare.com/doc/6716812/privatization-without-a-plan-chart-10-and-caption-november-24-2013-pdf-415k
ABOUT THE AUTHOR
Dr. Angelo Armenti Jr. served as President of California University of Pennsylvania (Cal U) from 1992 to 2012. Before that, he was a Dean at Villanova University, a professor of physics, and author of The Physics of Sports (American Institute of Physics, 1992). During his career at Cal U, Armenti is credited with establishing numerous funding sources for student scholarships and for campus revitalization projects, efforts made in part to address the problems that he describes in Privatization Without a Plan. In June of 2012, Armenti founded a non-profit corporation entitled The Pennsylvania Association of State Colleges and Universities (PASCU) whose mission it is to preserve the purpose of public higher education in Pennsylvania. He also writes for his weekly blog at http://angeloarmenti.blogspot.com/.