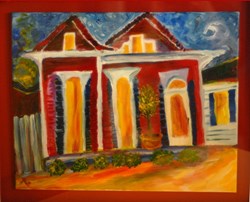 TUCSON, Ariz., (PRWEB) November 25, 2013
A painting by Barbara Twardowski of Mandeville, La., has been accepted into the Muscular Dystrophy Association Art Collection. Now in its 21st year, the Collection features artwork by people from across the country with muscular dystrophy and related disorders.
"Welcome" is Twardowski's first painting accepted into the Collection. She has been a contributor to MDA's Quest magazine for several years, and some of her works were featured in the April-June 2011 issue in connection with her article "An Accidental Artist: Let Yourself Play!"
"Welcome" was inspired by the creole cottages in Louisiana. "I love the details in the architecture, big, welcoming porches and the smell of gumbo in the air," said Twardowski. She used acrylics, mixing the paint on the canvas instead of a palette.
Twardowski has a master's degree in mass communications from Louisiana State University and holds a bachelor's degree in journalism from Sam Houston State University. The articles she writes for Quest primarily relate to accessible travel as Twardowski and her husband, Jim, share information from their own adventures, including lodging, restaurants, flying, driving, taking cruises and more.
Twardowski received a diagnosis of Charcot-Marie-Tooth disease (CMT), a genetic disease which causes muscle weakness and atrophy, and a loss of sensation in the feet, lower legs, hands and forearms.
"Welcome" is on display at MDA's national headquarters in Tucson, Ariz., and can be seen here. The piece also will be included in MDA Art Collection traveling exhibits.
"We're honored to receive this wonderful painting by Barbara Twardowski into the permanent MDA Art Collection," said Michael A. Blishak, MDA's senior vice president of community programs. "Barbara's many talents — art and writing among them — continue to delight, educate and motivate."
The MDA Art Collection was established in 1992 to focus attention on the achievements of artists with disabilities and to emphasize that physical disability is no barrier to creativity.
It comprises 400 works by artists age 2 to 84, representing all 50 states. Each artist is affected by one of the more than 40 diseases in MDA's program.
Selected art from the Collection has been exhibited at the Dallas Museum of Art; Cork Gallery at Lincoln Center and the Forbes Collection in New York City; Chicago Public Library; Fort Lauderdale Museum of Art; Los Angeles Children's Museum; Capital Children's Museum, Washington, D.C.; and many other sites.
MDA maintains clinics for area children and adults at Children's Hospital and Louisiana State University in New Orleans.
About MDA
The Muscular Dystrophy Association is the world's leading nonprofit health agency dedicated to finding treatments and cures for muscular dystrophy, amyotrophic lateral sclerosis (ALS) and other neuromuscular diseases. It does so by funding worldwide research; by providing comprehensive health care services and support to MDA families nationwide; and by rallying communities to fight back through advocacy, fundraising and local engagement. Visit mda.org and follow us at facebook.com/MDAnational and @MDAnews.
– MDA –