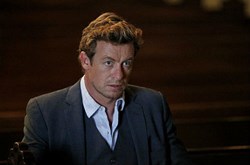 Frankly, I think the great asset and value of the show is in Baker's head and half of what he does. -Bruno Heller
(PRWEB) November 25, 2013
TVRage.com News Editor Allyson Koerner recently spoke with actor Simon Baker and 'The Mentalist' creator Bruno Heller, alongside other reporters, about the hit CBS series, the Red John character and if the show can live without the serial killer that's engrossed the show for the past five and a half seasons.
Here's an excerpt from the conference call:
"Will Jane and Lisbon's relationship remain strong?
As Baker told TVRage, "Absolutely, and I think even stronger." Per Heller, "They've been so engrossed in this massive task ahead of them that they haven't really looked around, and looked at the people alongside them, and thought about who those people are and what they mean to them. Now, Jane and Lisbon have a chance to take a breath and think about each other in a way that they haven't before."
Is Jane really psychic?
For those who think Jane is really psychic, Heller told TVRage, "God bless them … I would say to those people, psychics don't exist, but the human capacity for understanding and affection and empathizing and sympathizing with other people is not supernatural, but natural, and it's an amazing power."
'The Mentalist' airs Sundays at 10/9c on CBS.