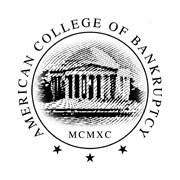 Fairfax, VA (PRWEB) December 02, 2013
The American College of Bankruptcy and the American College of Bankruptcy Foundation announced today that it has awarded 36 pro bono grants totaling $320,834 to legal services organizations located in 19 different states. The unrestricted grants are funded jointly by the College and its Foundation and are awarded to legal services organizations whose activities are consistent with the objectives of their charitable and educational missions.
The grants issued in 2013 include the following:
Alameda County Bar Association Volunteer Legal Services Organization
Oakland, CA
Atlanta Legal Aid Society, Inc.
Atlanta, GA
Atlanta Volunteer Lawyers Foundation
Atlanta, GA
Bankruptcy Bar Foundation
Tamarac, FL
Bet Tzedek
Los Angeles, CA
Birmingham Bar Volunteer Lawyers Program
Birmingham, AL
Catholic Charities of the Archdiocese of Chicago
Chicago, IL
Central Florida Bankruptcy Law Association
Orlando, FL
City Bar Justice Center
New York, NY
Community Law Project
Portland, OR
Consumer Bankruptcy Assistance Project Fresh Start
Philadelphia, PA
Consumer Education & Training Services
Seattle, WA
Credit Abuse Resistance Education
Alexandria, VA
DC Bar Pro Bono Program
Washington, DC
Georgia State University Research Foundation
Atlanta, GA
Jacksonville Area Legal Aid, Inc.
Jacksonville, FL
The Law Project/Chicago Lawyers' Committee
Chicago, IL
Legal Aid-Put Something Back
Miami, FL
Legal Services Corporation of Delaware, Inc.
Wilmington, DE
Legal Services of Southern Piedmont
Charlotte, NC
Maryland Volunteer Lawyers Service
Baltimore, MD
National Consumer Bankruptcy Rights Center
San Jose, CA
Neighborhood Legal Services Association
Pittsburgh, PA
New York Legal Assistance Group
New York, NY
The Ohio Legal Assistance Foundation
Columbus, OH
The Pro Bono Project
New Orleans, LA
Pro Bono Resource Center of Maryland
Baltimore, MD
Public Counsel
Los Angeles, CA
Public Law Center
Santa Ana, CA
Public Service Law Corporation
Riverside, CA
Rutgers University School of Law
Camden, NJ
South Carolina Legal Services
Greenville, SC
Volunteer Attorney Program
Duluth, MN
Volunteer Lawyers for Justice, Inc.
Newark, NJ
Volunteer Lawyers Network
Minneapolis, MN
Volunteer Lawyer Project of Boston Bar Association
Boston, MA
The American College of Bankruptcy is an honorary association of bankruptcy and insolvency professionals. The Fellows of the College are selected for membership based on a proven record of the highest standards of professionalism and service to the profession, and include commercial and consumer bankruptcy attorneys, bankruptcy and other federal judges, bankruptcy trustees, United States Trustees and other federal officials, law school professors, and others involved in the bankruptcy and insolvency profession. The College offers unique and challenging educational programs and publications, maintains the National Bankruptcy Archives at the University of Pennsylvania School of Law, and is believed to be the single largest financial supporter of pro bono bankruptcy services in the United States. There are approximately 831 Fellows of the College.  
The American College of Bankruptcy Foundation is a Section 501(c)(3) charitable organization, supported by the College and by tax-deductible contributions from Fellows of the College and others. Additional information about the College and the Foundation is available at http://www.amercol.org and http://www.acbfoundation.org.