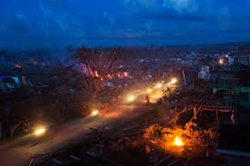 One of the most needed necessities during the nighttime is lighting.
Laguna Philippines (PRWEB) November 25, 2013
According to Fe Aquinde, President of the Rotary Club of San Pedro South, "One of the most needed necessities during night time is lighting....The Rotary Club of San Pedro South appeals for your urgent assistance."
'No electricity. No food. No water. Houses and buildings leveled. Bodies scattered on the streets. Hospitals overrun with patients. Medical supplies running out.' This is how CNN described the situation in Tacloban, Leyte province.
The damage done by this devastating storm in the Philippine Islands has left thousands without the basic necessities of life. Emergency aid organizations are mobilizing to bring immediate relief to those hit hardest by the storm. Water and food, the most basic of necessities, are being brought in.
The Rotary Club of San Pedro South is appealing for help with one of their greatest needs, which is light. Electricity will not be restored to many of the hardest hit areas for many months. This results in dark and dangerous conditions. In the rubble left behind by the storm open flames, kerosene lamps and candles are a serious fire hazard.
The cloak of darkness that falls covers these areas every evening invites looting and assaults, posing seriously increased threats to safety especially to women and children.
Working with the Grid Earth Project and WakaWaka, the Rotary Club of San Pedro South is providing WakaWaka solar lights to victims of the storm. The Grid Earth Project distributes WakaWaka lights in areas without access to electricity. WakaWaka Lights are water resistant, durable and provide the most effective solar light solution available.
Their WakaWaka Power also incorporates a USB charger to keep cell phones charged. For every WakaWaka Power ordered from the Rotary Club of San Pedro South, a WakaWaka Light is provided to a family in the Philippines. Please view the video and help bring light to the Philippines at this critical time.