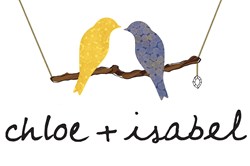 New York, NY (PRWEB) November 26, 2013
Today Chloe + Isabel, the costume jewelry brand, announced Casey Driskill is being promoted to Creative Director. Previously, Driskill was the Design Director at Chloe + Isabel since the company's launch in 2011.
As Creative Director, Driskill will work directly with CEO and founder Chantel Waterbury to oversee a team of designers to conceptualize and design the company's unique jewelry collections, and ensure that creative vision is executed through all aspects of the brand.
"Designing for Chloe + Isabel has been an incredible experience over the past two years," says Driskill. "The jewelry has a personal nature to it, each piece has a story to tell. I'm excited to continue creating these distinctive stories and further build our brand narrative as Creative Director."
Driskill came to Chloe + Isabel with a background in luxury and fine jewelry, most recently at Alexis Bittar. Previous to that, she held positions at Kara Ross, St. Kilda and Melissa Joy Manning. Driskill graduated from the Jewelry Design program at the Fashion Institute of Technology in New York City, where she focused on fabrication and the technical aspects of jewelry making.
Waterbury announced the promotion shortly after finalizing Chloe + Isabel's 2014 spring collection. "I brought Casey on as a designer at our company's launch and with each collection she has continued to imagine and curate beautiful pieces. She has an innate sense of Chloe + Isabel's brand voice, and I look forward to seeing her grow that in her new position," said Waterbury.
About Chloe + Isabel
Chloe + Isabel is a fashion jewelry lifestyle brand devoted to empowering the next generation of entrepreneurs through social retail. Founded by jewelry and merchandising industry veteran Chantel Waterbury, it is the first company to take an omni-channel approach to direct selling, with an innovative technology platform that allows merchandisers to leverage their social influence, track analytics, and build their business both on and offline. Chloe + Isabel creates uniquely beautiful jewelry that perfectly meshes quality and value, and each piece is hand designed in their New York City studio.