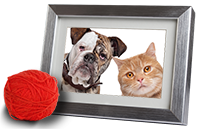 If cancer is found, it is usually the result of investigating other conditions.
Jeffersonville, IN (PRWEB) November 26, 2013
November is Pet Cancer Awareness Month, a time for pet owners to learn more about the possible warnings signs and symptoms, the risks for their particular breed and treatment options.
Cancer is a disease that can be very broad, manifesting a variety of symptoms affecting various areas of your pet's body. These signs and symptoms can be masked or go undetected.
"Some masses that could be cancerous will appear on the surface of the skin in the shape of a lump or knot," said Erin Rea, Veterinary Technician and Claims Coordinator with PetFirst. "A majority of those masses can be removed and considered cured with no further treatment."
Those type of masses are not always the case. Just like with humans, cancer can be a silent killer, growing in our pets. Pets tend to have a higher pain tolerance and can't verbalize not feeling well, so the cancer can go undetected for a while.
"If cancer is found, it is usually the result of investigating other conditions," said Rea. "Pet parents will notice other issues such as an irregular eating pattern or their pet being lethargic. That is when they decide to take their pet to the vet."
What can you watch for in your pet?

Not eating or eating infrequently
Vomiting
Blood in their urine
Losing weight
Lethargic
Inability to be comfortable when resting, restlessness
PetFirst has more than 1,200 pet parents treating their dog or cat for cancer. Some of the most common cancerous conditions range from lymphoma and skin cancer, to bone, chest or splenic (spleen) masses. Most of these cancers are treatable, and with a Lifetime Pet Insurance Policy, the cost is manageable.
The average claim filed with PetFirst for having a cancerous mass removed by a licensed veterinarian is $1089; the average reimbursement of those same cases is $787. The reimbursed money is paid directly to the pet parent to recoup the cost of the veterinary expense.
"In most cases our pets are our family member; they are our best friends," said Rea. "By having the safety net of pet insurance for an affordable monthly premium takes the worry out of choosing a treatment plan for your pet."
Securing a pet insurance policy is easy and can be done either online or by phone. To find PetFirst, visit http://www.petfirst.com or call 1-877-894-7387 and a representative will customize a personal insurance plan for you and your pet.
About PetFirst
PetFirst is the fastest growing pet insurer in North America offering easy-to-understand lifelong coverage for dogs and cats. PetFirst's comprehensive coverage is unique in the industry providing simplified policies with coverage for hereditary, chronic and breed-specific conditions with no per diagnosis limits. PetFirst offers pet insurance in all 50 states and the District of Columbia through animal welfare agencies, retailers, employers as well as other partners. PetFirst polices are underwritten by American Alternative Insurance Corporation (Munich Re) which is rated by A.M. Best as A+. Additional services are underwritten by Lloyd's. For more information about PetFirst pet insurance, visit http://www.petfirst.com or call 877-894-7387.