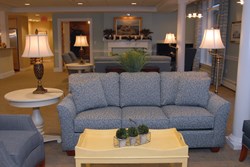 The goal of the program is to make certain that "residents feel empowered, have a voice, and continue to lead dignified and meaningful lives.
Hingham MA (PRWEB) November 27, 2013
Welch Healthcare and Retirement Group, a leader in senior services, housing and healthcare on the South Shore recently held a ribbon cutting for the family-owned company's newest Assisted Living Memory Care Neighborhood in Hingham.
Open Houses were held so that families with a loved one with a memory care issue and healthcare professionals could tour the community before residents moved in, see the neighborhood's common spaces and accommodations and meet the staff.
The neighborhood features a total of 16 rental apartments – 10 studios and three, two-bedroom companion suites and follows the Alzheimer's Association Habilitation Therapy Methods. Says Richard Welch, president of Welch Healthcare and Retirement Group, "Our goal is to help residents thrive and to ensure families and their loved ones have found the right home, with the right care."
Some of the features of the New Memory Care Neighborhood at Allerton House in Hingham include, but are not limited to a dedicated team, trained in dementia care, 24-hours a day; three nutritious meals daily in the Memory Care Dining Room: personal care assistance & medication management; engaging activities and events designed to promote positive, satisfying experiences;and a secure environment, featuring a wide range of indoor and outdoor common areas.
The Alzheimer's Association estimates that more than five million Americans are living with the disease and that at least 15 % of individuals who are caring for a loved one with Alzheimer's disease are doing so long-distance. Teamwork is at the core of the new Welch Group specialized Memory Care Neighborhood. A dedicated program director and enrichment coordinator are key components of the program. Care is overseen by a resident services director.
Program Director Laurie Tranchell, who brings many years of experience to her role at the Massachusetts South Shore Assisted Living Community, says the program's goal is to make certain that "residents feel empowered, have a voice, and continue to lead dignified and meaningful lives." She will be working alongside Allerton House in Hingham veteran Cindy Hughes, RN, resident services director, who sees the new neighborhood as a wonderful way for residents and families to transition to the memory care environment, while remaining in a familiar home-like setting. The new Memory Care neighborhood at Allerton House at Harbor Park in Hingham is part of a continuum of care campus that includes traditional assisted living, memory care and short-term rehabilitation and long-term care.
For more than 60 years, Welch Healthcare and Retirement Group has been providing continuum of care services to seniors and their families who may need housing or care options, including independent living, assisted living, short-term rehabilitation and long-term care, Alzheimer's care, adult day health or home care services. Residences and skilled centers are located in Brighton and throughout the South Shore of Massachusetts in Braintree, Duxbury, Hingham, Marshfield, Quincy and Weymouth. To learn more, visit http://www.welchhrg.com.