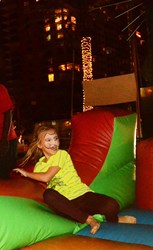 Sunny Isles Beach, Florida (PRWEB) November 27, 2013
The City of Sunny Isles Beach will hold its annual Winter Fest celebration at Heritage Park (19200 Collins Avenue) from 5:00 - 8:00 pm on Saturday, December 7, 2013. As the Mayor throws the switch to light up the park, the holiday season gets underway with activities including photos with Kris Kringle, rides, crafts, and a special treat this year, ice skating!
Entrance and parking for the event are free. Wristbands are required to enjoy the carnival rides or the ice skating, but are free with SIB Resident ID Card, $2 for all others. It's sure to be a wonderful celebration for both residents and visitors of all ages. There will be a special awards presentation for our athletics division, to include a performance by our cheerleading squad. If you get carried away with the fun and excitement and realize your stomach is growling from hunger, visit one of the vender booths with food for sale.
But, that's not all. Be sure to hold on to your wristband because ice skating only, will also be open on Sunday, December 8, 2013 from 12:00 – 4:00 pm for a special rate: $2 with SIB Resident ID Card, $4 all others. Saturday wristbands will be good for Sunday ice skating.
If you want to leave the driving to us, take the Special Event Shuttle Bus to and from the park. Otherwise there is free parking under the William Lehman Causeway and handicap parking in the parking garage at the park. For information on this FREE event, please visit http://www.sibfl.net or contact the Cultural & Community Services Department at 305.792.1706.