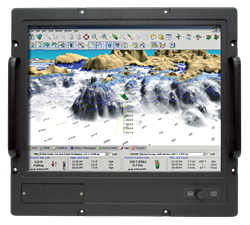 "Updating and releasing new versions of our 20" products coupled with the strategic inventory we have secured, will allow Comark to support legacy programs and products throughout the Naval community.
Medfield, MA (PRWEB) December 03, 2013
The upgraded 20" LCD family includes a rugged touch display as well as a full panel-PC / HMI. The LED enhanced 20" LCD provides a native resolution of 1600 x 1200 (UXGA) in support of legacy Navy programs. As with all Comark products, the new 20" product line is designed with the latest technology including an Intel Core i5 Processor for the panel PC / HMI variant.
In recognition of the difficulty to modify existing software or system specifications, Comark has established a strategic supply of this increasingly difficult to source base 20.1" LCD panel to support long term missions for the Navy & Marine community. The products within the 20" family can be tailored to be drop in solutions for existing systems.
Manufactured in the US, the 20" product family uses long lifespan components to ensure multi-year availability for sustainability in all Navy applications.