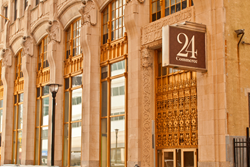 "This is the new 24 Commerce Street, where the ownership is clearly demonstrating their commitment to tenants and the property," said Jeff Kolodkin, Managing Director, Newmark Grubb Knight Frank
Newark, NJ (PRWEB) November 25, 2013
Diversified Capital named Newmark Grubb Knight Frank as exclusive leasing agent for 24 Commerce Street, the former Federal Trust Bank building in downtown Newark. The historic office structure rises 18 stories and encompasses a total of 180,000 square feet. Since the appointment, Newmark Grubb Knight Frank has attracted numerous impressive tenants to the building.
The asset underwent a $5 million renovation as part of its efforts to revitalize the building. The effort included updating of the exterior façade, lobby with electronic directory, elevators, in-house café and restrooms. The Lakewood, N.J.-based Diversified Capital obtained financing from Lane Capital to complete the renovation program. The 24 Commerce building is also now ADA-accessible with a new Lobby entryway.
"At 24 Commerce Street, the ownership has clearly demonstrated its commitment to tenants and the property both with its infusion of capital improvements and its tenant-centric service philosophy," said Jeff Kolodkin, Managing Director of Newmark Grubb Knight Frank.
In response to the repositioning and renovation effort, 24 Commerce has seen substantial recent leasing activity. New tenants now include Ricoh, Lycatel's new U.S. headquarters, Nicholson Construction, ACBB Bits, Binder and Binder, Spark Box, CNC Teledata, Rock Ridge Music and Ilori CPA. Newmark's team also negotiated the renewal lease for Quest Diagnostics.
"There is substantial interest being shown by other potential tenants," said Andrea Solomon, Vice President-Leasing for Diversified Capital. "We anticipate making some additional tenant announcements shortly."
Although many spaces have been leased, spaces from 1,500 square feet up to 58,000 square feet are still available, including blocks of contiguous space of up to 25,000 square feet. Building features include panoramic views of the surrounding Newark skyline, close proximity to Military Park and surrounding shops, the New Jersey Performing Arts Center and Newark Penn Station. On-site amenities include concessionaire Café 24, and 24/7 access and security.
"24 Commerce Street is a terrific location for companies that are seeking a highly tenant-centric environment," Kolodkin said.
Diversified Capital owns and manages a comprehensive portfolio of commercial and residential properties in New Jersey, Pennsylvania, Virginia, Connecticut and Texas. Founded in 1999 by president Joseph I. Rosenbaum, the firm specializes in acquiring and turning around properties, repositioning these acquisitions as stabilized, income-producing assets within its long-term portfolio.