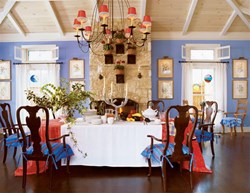 You don't have to say 'no'.
Austin, Texas (PRWEB) November 26, 2013
The holidays can be particularly daunting for those aiming to stay on a healthy path. Terry Shaw, LD, MA is a licensed dietitian who leads classes and offers individual nutritional counseling at Lake Austin Spa Resort year round. With so many stressful situations already built into the holidays, Shaw says food shouldn't have to be one of them, and offers tips to avoid overeating throughout the holiday season.
"First off, you don't have to say 'no'," Shaw advises. Avoiding foods you love altogether will only make the temptation for them greater. Let yourself enjoy a few bites of something, but do so intentionally. Really allow yourself to savor each bite; don't just shovel it in or eat it while focusing on something else. Sit down to eat and use utensils instead of your fingers, so you can slow down and enjoy what you're eating. The pleasure in a food begins to subside after only 3-4 bites, so use those deliberate bites to say yes to the once-a-year foods without guilt.
Eat sensibly before an event to prevent overindulging out of hunger. Starving yourself all day to "save up" for the tasty treats at the party is a recipe for overeating and overdrinking. Shaw says it's also important to drink water along with your cocktails at parties. Utilize a one-to-one ratio of water to alcoholic drinks to avoid overindulging in both cocktails and food at parties. And better still: have a cup of broth-based soup 15-20 minutes before a big holiday meal. Studies show that doing so helps people not only eat less at the meal, but also lose more body fat than those who forego the soup.
If you're hosting the meal, you can easily build the soup right into your menu. Plan your meal out in courses, serving soup and salads first, and saving the more calorie dense items for last. Not only will this feel decadent and build anticipation for what's to come, but it will help you fill up on lighter foods first because hunger will abate with each course. By doing this, you can also serve from the kitchen instead of putting all the food on the table "family style," making it less tempting to just reach across the table for seconds or thirds. You can even get sneaky by serving on smaller plates, creating the illusion of abundance with each course.
"Remind yourself how good leftovers will be," says Shaw. You can always go back for seconds or enjoy your favorites again the following day. Even though the meal or party might be a once-a-year occurrence, it doesn't mean you have to employ a "get it while you can" mentality. Get creative when planning your menu and think about the dishes you can make from the leftovers. Remember that you can continue enjoying the holiday flavors even after the meal or day itself has passed. The key is to enjoy the holidays and the food in a mindful and deliberate way instead of stressing about each bite or feeling guilty about overindulging once the holidays have come and gone.
Nestled along the shores of scenic Lake Austin in the beautiful Texas Hill Country, Lake Austin Spa Resort offers guests the sanctuary of a world-class spa and the warmth of a best friend's lake house. Lake Austin Spa Resort offers all-inclusive vacation packages, which include accommodations in one of 40 charming lakeside guest rooms, three gourmet meals daily, indoor and outdoor fitness activities and classes, and a selection of spa and body treatments.
Lake Austin Spa Resort is located at 1705 S. Quinlan Park Road in Austin, Texas. More information can be found about the spa at http://www.lakeaustin.com or at http://www.facebook.com/lakeaustinspa.
Photography, interviews and healthy recipes available upon request.