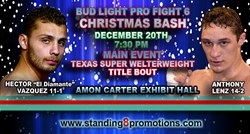 'This is the fight I have wanted for two years,' exclaimed Lenz. 'Vazquez would never agree to it. Now that it is on, I know what I have to do.'
Fort Worth, TX (PRWEB) November 26, 2013
The Bud Light Pro Fight 6 Christmas Boxing Bash will take place on December 20th at 7:30 PM at the Amon Carter Exhibit Hall at the landmark Will Rogers Memorial Center (doors open at 6:00 p.m.) In addition to 7 bouts of world class boxing including a Texas Title fight, Santa will be in the house for free photos with "kids" of all ages. There will also be lots of Christmas holiday music, contests and giveaways for the whole family.
The main event of the Bud Light Pro Fight 6 Christmas Bash will feature a Texas Super Welterweight Title bout between DFW's own Texas title holder Hector "El Diamante" Vazquez (11-1) of Irving Texas and challenger Anthony Lenk (14-2) from the fight capital of the world, Las Vegas, Nevada. Vazquez is probably up for the challenge of his life since Lenk has fought some of the biggest boxing cards in the sport with much success. Lenk's only losses were to top welterweight contender Jesse Vargas and Ricardo Williams, an Olympic team member for USA. Lenk has fought on some of the biggest fight cards and thrived. Texas Title holder Vazquez has also beaten some of the best including current world Welterweight Champion Adrien Broner. He was also the 2008 Olympic Alternate for Team Mexico, making this main event a true match of skill and talent.
"This is the fight I have wanted for two years," exclaimed Lenz. "Vazquez would never agree to it. Now that it is on, I know what I have to do. I have been working very hard for this fight knowing that a win gets me an ESPN caliber fight. I have big power and unmatched aggression. I can't wait to come to Texas and take care of this thing that has been 2 years in the making. This is an early Christmas present to me," added Lenz about the upcoming fight.
"These are the types of fights that I want. This is how you become world champion. This is a big fight. It has been a long road here with the setbacks, but I am ready to seize the moment," said Vazquez. "Beating Lenk will put my name on the map. To become better recognized, I have to make an impression. I am putting in the work to make that happen. I truly feel that this is my time. This fight will mean a lot to me but also to the city of Irving. I live in DFW and look forward to giving the area another athlete to root for as my career progresses," added Vazquez
In addition to the main event, the co-main event will also be a thrilling fight with the undefeated James DeHerrera (3-0) of Fort Worth, TX battling the undefeated Jon Baladez (3-0) of Austin, TX.
Other exciting matches already set for the event include Standing 8 Promotion's newly signed boxing prodigy, making his pro-debut out of Wichita Falls, TX, light weight Kenny Grammer against George Palmer of Tulsa, Oklahoma in the Light Weight Division. Also, guaranteed to be a great show will be the middleweight challenge between Joey "Panama Flash" Dunmoodie of Fort Worth, TX and the seasoned Dallas middleweight Larry Smith, who will be seeking victory with a passion after his Texas Title fight loss in August. Another fight bound to be packed with great punches will be Konstantino Martinez of Sweetwater, TX making his pro-debut against Jonathan Ramirez (1-0) from Arlington, TX. Fan favorite Mike Tufariello, of Carrollton will also be fighting in match still to be determined.
Tickets range from $30 to $75. All seating is reserved with perfect ring viewing. Need a great early Christmas present for a boxing fan? Select Ringside Seating is limited so get tickets now at http://www.standing8promotions.com or call 817-335-9000.
The event is part of the Bud Light Pro Boxing Series promoted by Standing 8 Promotions. Since its inception last year, the promotional company has gained prominence in the boxing world by staging consistent cards, competitive fights, exciting entertainment and featuring some of the very best young boxing talent. For more information about this event or Standing 8 Promotions, go to http://www.standing8promotions.com.