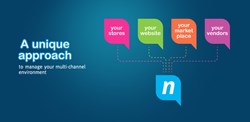 'Nine hours open on a busy day required nine hours of invoicing,' said Brian Dickess, Owner and General Manager of Mike's Archery. 'With nChannel, it now takes three hours or less. It paid for itself fast.'
Columbus, OH (PRWEB) November 26, 2013
nChannel, creator of the cloud-based multi-channel management platform, announced today that Mike's Archery, supplier of archery equipment and accessories, has connected its accounting system, Sage MAS 90, with its online stores and eBay to simplify order entry, invoice generation and shipping using nChannel's multi-channel management system.
Mike's Archery relies on nChannel to consolidate and process both direct and wholesale orders from their online store, physical store, phone calls and from a grant-funded private web store sponsored by the National Rifle Association (NRA) that supports youth organizations such as scouting organizations, 4-H Clubs, Boys and Girls Clubs, and others. nChannel also replaced a tedious manual invoicing process which cut the company's order processing time by two-thirds.
"Nine hours open on a busy day required nine hours of invoicing," said Brian Dickess, Owner and General Manager of Mike's Archery when describing their manual process prior to implementing nChannel. "With nChannel, it now takes three hours or less. It paid for itself fast." Dickess also credits nChannel with his company's ability to improve its profit margin and maintain a 10% growth rate without hiring additional staff.
In addition to order processing, the nChannel platform also tracks inventory levels in real-time and provides visibility to on-hand inventory levels to the NRA before orders are placed so youth groups will not be disappointed by stock-outs.
In the near future, Mike's Archer plans to upgrade to SAGE 100, switch their eCommerce system to Magento and add Amazon as a new sales channel. "Like many companies we work with, Mike's Archery's systems are not static," explains Lisa Steinhart, Vice President of Sales for nChannel. "And that's exactly what makes nChannel such a good fit. Our customers can change or upgrade their systems without affecting the rest of their environment. nChannel allows you to simply unplug or plug in new systems as your business dictates."
About nChannel
nChannel offers companies a complete suite of easy-to-use cloud-based solutions to manage their multi-channel environment including transaction synchronization, order management, item catalog syndication and master data management. nChannel's cost-effective web-based subscription model enables companies to manage sales processes for both wholesale and consumer channels. Using nChannel, subscribers connect their existing financial, ERP and/or POS systems with any number of external online and offline stores including marketplaces such as eBay and Amazon. Publishers of software or cloud applications can develop connections to the nChannel platform to quickly provide integration to any other connected application