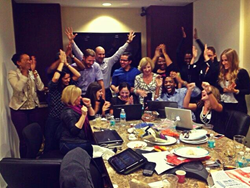 Give Miami Day was a virtual event, which enabled us to recruit diverse, young and talented first-time donors," said Beatty. "It allowed anyone to be a philanthropist … with just $25, you could join a giving moment.
Austin, TX (PRWEB) November 25, 2013
Today, Kimbia announced that Give Miami Day, a 24-hour Kimbia-powered online giving event hosted by The Miami Foundation, raised $3.26 million for 400 nonprofits during its second annual event, shattering last year's record of $1.2 million raised for 300 nonprofits. This result represents an almost three-fold increase in donations over the previous year.
The hugely successful event generated:
•150% increase in the number of gifts, from 5,000 last year to more than 12,000 this year
•$265 average gift compared to $248 average gift last year, representing a 6% increase
"Give Miami Day 2013 made history as the most active day of philanthropic giving in South Florida. The right platform puts the power of philanthropy in anyone's hands, making it easy to support the causes that matter to donors most," said Matthew Beatty, Director of Communications for The Miami Foundation.
New online giving capabilities, requested by The Miami Foundation as a result of a donor survey and provided by Kimbia, contributed to this year's success. For example, this year, donors were able to give different gift amounts to multiple nonprofits – all in a single transaction. $240,000 in donations were made using this feature.
"Kimbia worked wonderfully with us to add specific features our donors requested and provide support throughout the 24 hours of giving," said Marianne Maduro, Senior Programs Officer for the foundation. "Kimbia allowed donors to use the Give Miami Day website without sacrificing brand identity. They made sure the process was easy and that nonprofits had what they needed to run successful campaigns."
Social media played a significant role in this year's Give Miami Day. According to Beatty, the social media conversation got a kick-start during the "Countdown to Give Miami Day Twitter Party," which was launched at 11pm the night before the event officially started. About 10 alumni from the foundation's Miami Fellows program blasted their individual social networks with the giving day message. "From there, the chatter online was endless. It exploded! The conversation took on a life of its own," said Beatty.
Beatty said the increase in donors, and especially first-time donors, was significant. "Give Miami Day was a virtual event, which enabled us to recruit diverse, young and talented first-time donors," said Beatty. "It allowed anyone to be a philanthropist … with just $25, you could join a giving moment."
The Miami Foundation created Give Miami Day to enable individual South Floridians to contribute to a wide variety of nonprofits in the Greater Miami area. Together with its partners: Knight Foundation, Marlins Foundation, Miami HEAT Charitable Fund, The Miami Foundation Board of Trustees and Hector Family Fund, it created a match pool of more than $300,000.
Each nonprofit receives a percentage of the matching funds according to the percentage of the total funds raised in the 24-hour giving day period. For example, if nonprofit "X" raises 8% of the total funds raised, it will receive 8% of the matching pool.
For communities conducting giving days, the Kimbia solution provides:
•Maximized brand awareness. The entire donor experience across all channels conveys and reinforces the host organization's brand including the organization's website, credit card statement, tax receipt and social media components.
•Client control of donor funds and donor information with the highest level of security available. Funds flow directly to the host organization, not a third-party who will market others' mission and events. Also, both the host and nonprofits participating in a giving event have real-time access to donor data for assessing progress and making changes, if needed.
•An unmatched technology platform that can process hundreds of thousands of transactions and millions of dollars in donations with no impact on the donor giving experience. This is an especially important consideration because so many Kimbia-powered giving events exceed their fundraising projections.
•Seamless data integration into most of today's leading constituent relationship management, email, content management and donor management systems. The latter is critical for financial reconciliation and grant processing for nonprofits participating in a giving event.
About Miami Foundation
About The Miami Foundation: The Miami Foundation provides civic leadership, bringing stakeholders together to tackle issues of concern in our community. We have helped hundreds of people create personal, permanent and powerful legacies by establishing custom, charitable Funds. With foundation expertise, Fundholders have fostered the arts, awarded scholarships, championed diversity, taught kids to read, provided food and shelter for the hungry and homeless, and more. More than $160 million in grants and scholarships have been awarded in the Foundation's 45-year history. Today, the Foundation stewards more than $165 million in charitable assets.
About Kimbia
The Internet has revolutionized the economics of fundraising for all demographic groups. Kimbia's flexible, best-of-breed, Omni-Channel Fundraising™ platform enables you to create a deeper donor relationship by leveraging the strengths of each channel and putting your donors at the center of all development activities. Ultimately this approach results in greater brand awareness, giving and lifelong advocacy. Based in Austin, Texas, Kimbia is proud to support more than 5,000 customers to date, including Communities Foundation of Texas, The Boston Foundation, The San Diego Foundation, The Miami Foundation, Community Foundation of Sarasota County, Community Foundation Serving Richmond & Central Virginia, Lancaster County Community Foundation, Telluride Foundation, Centre Foundation and Community Foundation for Greater New Haven. For more information, visit http://www.kimbia.com.