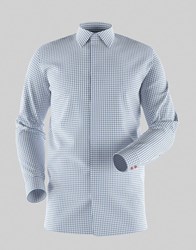 …one of the best "if not the best custom dress shirt on the market." Brock McGoff
Chicago, IL (PRWEB) December 11, 2013
Representatives from Deo Veritas announced today that the company is taking shirt customization to the next level with its latest addition -- photorealistic dress shirt images. These shirt images (which update in real time based on the selected options) were created to give customers the ability to more accurately design shirts online to their liking.
"We've added the new photorealistic dress shirt images to make the made to measure shirt buying experience much more rewarding. Being able to effortlessly design a custom dress shirt with a ton of options that update with eye popping imagery has been a goal of ours for a long time. I can proudly say that this is a huge goal that we've finally accomplished," said Vinnie Sikka, owner and founder of Deo Veritas, the Chicago based made to measure online custom dress company.
Sikka went on to point out that the company, which gives consumers the ability to design a completely customized dress shirt per their own measurements, has also added six new collar styles, two new cuff styles, and over 150 new fabrics.
In response to both the new customizer and new fabrics, Sikka noted, "The fabrics we've added were selected across all price points and represent significant input from our customers. Specifically, we've added over 30 entry level fabrics at price points that are perfect for consumers that are new to made to measure shirts. "
"One of the biggest complaints we received from customers was that the actual shirts they received did not accurately match the imagery displayed on our site. We listened and invested a great deal of time and money with 3D artists that typically specialize in high end Architecture renderings. This allowed us to match our fabrics with the actual shirt imagery making the models much more realistic. The new imagery is within our customizer which we feel will differentiate us from many of the other custom shirt makers on the market and give customers a buying experience that is second to none."
As to how consumers rate Deo Veritas' shirts, Chris Hogan of offthecuffdc.com said, "Deo Veritas makes custom shirts and as far as we are concerned, theirs are some of the finest Off the Cuff has reviewed. From fabric to fit to construction to detail, the product is exceptional and perhaps the closest to bespoke we have found."
Chris Laverty of clothesonfilm.com added, "I can thoroughly recommend Deo Veritas. They are a genuine, knowledgeable, eager to please company utilizing contemporary techniques to produce very good quality shirts at fair prices. For custom variants not available on their website just get in touch with as many details as you can; they will keep going until they've got it spot on, and then some."
Brock McGoff at themodestman.com also described Deo Veritas as, "…one of the best "if not the best custom dress shirt on the market."
Deo Veritas is also providing a special 15% discount for new customers using the code NEWDEO15 for orders with a total value of over $100.
For more information, please visit http://www.deoveritas.com.