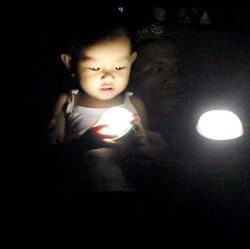 Denver, Colorado (PRWEB) November 26, 2013
Nokero International, Ltd. today announced their campaign to provide solar light bulbs to those affected by Typhoon Haiyan in the Philippines.
Nokero aims to distribute thousands of solar-powered lights throughout the Philippines by working with Habitat for Humanity and One Heart for Hope Foundation, official non-profit distributors on the ground.
"Our dedicated team has been producing 10,000 solar light bulbs per day now, and we are partnering with wonderful organizations such as Habitat for Humanity and One Heart for Hope Foundation to move some of these units to help those affected by the Typhoon Haiyan," said founder and CEO Steve Katsaros.
The solar lights are being sent to Habitat for Humanity's Cebu Headquarters and the Philippines Department of Energy, to be distributed to Bantayan and Tacloban where the electric grid is washed out. Lights are produced by Nokero International, Ltd. and funded by private donors and companies including Enfinity, Sasonbi, and Solutions Using Renewable Energy (SURE). The lights provide three to six hours of bright light with each full charge.
One Heart for Hope is also distributing lights to the remote islands of Camotes, San Francisco, Pacijan, Tulang, Mararison, Culatis, Busuanga, Camiguin de Babuyanes, Sarangani province, Casiguran and Guiuan, Samar where families cannot afford electricity.
"Our goal is to continue providing solar lights to remote communities and indigenous tribes while we provide education and basic necessities to their children. Partnership with Nokero will allow us to expand our solar campaign while implementing a clean, safe environment by eliminating kerosene," stated Merlita Helms, President of One Heart for Hope. "We carried with us these solar lights to help [people] rebuild their lives and to let them know that even in the farthest corner of our country, hope shines through."
Nokero was built on the goal of providing light where none exists, and eliminating kerosene where it is the only option for light. During disaster relief, solar light bulbs reduce the amount of dangerous kerosene lanterns used in temporary shelters and ensure productive construction to continue into the night under bright, portable light bulbs.
Small scale solar has made a tremendous impact during disaster relief, particularly in the Philippines where Typhoon Haiyan has affected millions of people. Nokero's durable and affordable solar light bulbs allow reconstruction and rehabilitation to resume within affected areas. People can rebuild their lives without ending productivity when the sun goes down.
Gerry Balasta, creator of The Solar Champion Project in association with One Heart for Hope, explains, "The solar bulb will greatly [help] the Haiyan typhoon victims in the coming months ahead, as they face the challenge of the huge restoration effort."
The N200 lights being distributed are the most popular product offered by Nokero. They are weatherproof and portable, featuring a high quality solar panel and AA-sized recyclable batteries with an automated sensor to switch off under bright light and conserve energy. Nokero customers can purchase multiple N200 lights at a discounted cost to be sent to the Philippines with Nokero's NGO partners. Additionally customers can choose to buy brand new N222 solar light/phone chargers, and Nokero will donate an N200 light for every N222 purchased. Visit Nokero's website for more information: http://www.nokero.com/haiyan.
About Nokero
Nokero (short for "No Kerosene") designs, manufactures and collectively distributes safe, affordable, and environmentally-friendly solar based technologies. Our solar lights and solar battery chargers are high-quality and low-cost, eliminating the need for harmful and polluting fuels around the world.