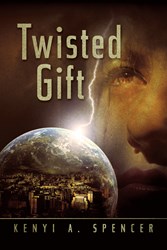 Twisted Gift will leave you shocked, yet begging for more. The story spans from Africa to Brazil; on to Indonesia and South Africa; then to China, Scotland, and Germany. It travels to space, only to end back on Earth with a BANG!
(PRWEB) December 02, 2013
The international thriller "Twisted Gift" begins with the abnormally rapid urbanization of Africa. Cities are stunned by the growth and are unable to provide food, shelter, and other necessities to the people. This leaves the weakest and most vulnerable open to predators who stand ready to take advantage of anything they can from the most downtrodden. Thus the stage is set, creating the perfect recipe for untold disaster.
Africa becomes the pool from which terrorists hire potential assassins; body-part hunters obtain "free" human spare parts; and sex slavers and child traffickers take full advantage of the chaos. All these factors are aggravated by poor governance in the Developing World, as well as by recurrent wars, uncontrolled population increases, and natural calamities. Twisted Gift is a most plausible thriller!
Watch the video at: http://www.youtube.com/watch?v=Go9KAL7YGbo.
TWISTED GIFT (Kindle ISBN: 978-1-62857-362-6, ePub ISBN: 978-1-62857-363-3) is available for $9.99 at http://epubco.com/shop/products/twisted-gift-by-kenyi-a-spencer/# and in multi-formats for other e-Readers through numerous vendors online.
The soft cover version (ISBN: 978-1-60976-045-8, $23.50) can also be ordered through the publisher's website: http://sbpra.com/KenyiASpencer or online at Amazon and Barnes & Noble.
Wholesalers:
This book is distributed by Ingram Books and other wholesale distributors. Contact your representative with the ISBN for purchase. Wholesale purchase for retailers, universities, libraries, and other organizations is also available through the publisher; please email bookorder(at)aeg-online-store(dot)com.
About the Author:
The author of 12 books, Kenyi A. Spencer is a consultant in South Sudan, and writes articles on economic matters for local newspapers and magazines.
About:
Strategic Book Publishing and Rights Co, LLC provides book publishing, book marketing, and e-Book services to over 10,000 writers around the world, employing 150 people who live throughout the US and work virtually through telecommunication. Strategic Book Publishing and Rights Co, LLC is experiencing over 30% growth per year, having published approximately 3000 authors with almost 100 new releases per month. Our books are available through Ingram, the largest book distributor in the world, as well as in bookstores, through Amazon, Barnes & Noble and all online channels. Strategic Book Publishing and Rights Co, LLC attends and exhibits at the major book expositions in London, New York, China, and Germany each year.