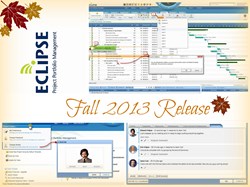 (PRWEB) November 27, 2013
Solution Q's 2013 fall release of Eclipse PPM will go live this Saturday, November 30. As with all of its product releases, the company has included both enhancements to existing functionality, as well as brand new features in a quest to continue delivering a leading project portfolio management solution.
With the continuing movement to communicate more and more online, Solution Q has realized the necessity to enhance online project and portfolio collaboration and communication with Eclipse PPM. In an effort to further support this collaboration and communication, Comments have been added as a new feature across Eclipse.
This exciting new feature allows users to both begin and reply to comments and discussion, which allows for greater social interaction between project teams and stakeholders. Comments have been broadly integrated throughout the tool and one of particular importance is its integration into the process of updating items ("Save and Comment") to increase transparency and provide further context to tracking and understanding changes.
Comments are certainly one of the highlights of this release, which should greatly contribute to users ability to enhance communication amongst their project teams - a major challenge for anyone involved in project and portfolio management.
Whilst communication is key to the effectiveness of managing projects, well-designed and easy-to-use schedules is key to efficiently managing them. With this in mind, Solution Q has further improved the Project Schedule to make the user experience more efficient.
A number of other reports have been updated to reflect reporting against new functionality and enhancements to existing reports based upon customer feedback.
One final area of functionality to note is the Eclipse PPM API services, which continue to be expanded and now allow for tasks, resources and schedules to be added outside of the tool and further automation to other areas.
To find out more about these capabilities and features mentioned in this article and how these advantage your organization's project and portfolio management efforts, contact Solution Q directly.
About Solution Q
Solution Q is the maker of Eclipse PPM, project portfolio management software that helps to simplify project and portfolio management to make it more successful for 'all voices in the room.' Solution Q provides a combination of process, PPM software and partnership to deliver improved business results. For more information visit http://www.eclipseppm.com/content/project-management-software