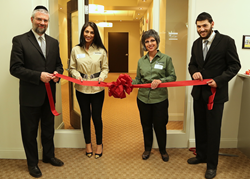 This is the new Madison Executive Center, where the management is focused on providing optimal space and support staff to small businesses, start-ups and sole proprietors. - Sruly Rosenbaum, President, Madison Executive Center at Bethlehem
Bethlehem, PA (PRWEB) November 26, 2013
On Thursday, November 14, 2013, Madison Executive Center at Bethlehem hosted an evening Ribbon-Cutting Ceremony and Open House for the Lehigh Valley Chamber of Commerce. Chamber of Commerce members were treated to a ribbon-cutting ceremony, tour of the executive suites and conference facilities followed by refreshments.
Guests at the Open House also enjoyed a presentation entitled "Maximizing Small Office Spaces" by Darla Pompilio, professional organizer and founder of Your Tasks-Our Time, based in the Lehigh Valley area. A free iPad was raffled as the Grand Prize, along with other great gifts. Jane Kapinas from Lehigh Valley Financial Group was the Grand Prize winner. Another prize was a complimentary pass for use of the conference room, a chance to try out Madison Executive Center (MEC) services free of charge. Guests were then encouraged to mingle and network with other local business execs.
In addition to the Open House, Madison Executive Center at Bethlehem hosted a Fall Party for the co-tenants at One Bethlehem Plaza on Thursday, Oct 31st. Businesses housed in the building's ten lower floors enjoyed the seasonal decorations and prizes, festive refreshments, and cheerful atmosphere of the party. Attendees also received a tour of the executive center, with many tenants expressing interest in utilizing the conference room space for overflow meetings or visiting contractors. Brokers and real estate agents received a private invitation to tour the executive center as well.
The new Madison Executive Center at Bethlehem features executive suites with a staffed, professional reception area, fully-outfitted private offices, two spacious conference rooms and two signing/meeting rooms. MEC is located on the top floor of One Bethlehem Plaza and boasts 11,000 square feet of office space. The executive suites are ideal for sole practitioners, start-ups and small businesses, seeking professional office space and support services, without the overhead. MEC specializes in offering a professional setting with short and long term leases that meet the varying needs of business owners, as well as administrative / clerical support on a need-basis.
The collapse of Bethlehem Steel Corporation in 2001 had a devastating impact on the economy in Bethlehem and the surrounding areas. Over the past ten years, significant efforts were invested in revitalizing local commerce, by building up diverse markets beyond industrial manufacturing.
Bethlehem Executive Towers was instrumental in developing the Madison Executive Center at Bethlehem and positioning it to assist with the revitalization of the Lehigh Valley area. "The grand opening of the Madison Executive Center represents a turning point for local industry," said Sruly Rosenbaum, President of Madison Executive Center at Bethlehem. "By providing support services and a professional setting, MEC is contributing to Lehigh Valley's resurgence and economic recovery."
Andrea Solomon, General Manager and Client Care Coordinator for MEC, has seen many new business start-ups in her career with MEC. "When start-ups and sole proprietors come to MEC, it is often the next step in growing a home-based business," explained Solomon. "Some entrepreneurs use MEC as a stepping stone to grow their businesses until they are ready to purchase space or lease a much larger space. Other businesses, such as CPAs or other independent services, prefer the stability and consistency of leasing an executive suite long-term."
Madison Executive Center originated in Lakewood, NJ as the best alternative to traditional office space for cost-conscious professionals doing business in central New Jersey. During the last decade, the first MEC location enjoyed an average occupancy rate of 90%. With the success of the business model, the decision was made to replicate the model in other areas with a need for more Executive Offices and strong government and private sector support for small businesses, sole proprietorships and new start-ups. MEC is currently expanding locations to Bethlehem, PA and Newark, NJ.
One Bethlehem Tower is owned and managed by Diversified Capital, LLC. Diversified Capital owns and manages a comprehensive portfolio of commercial and residential properties in New Jersey, Pennsylvania, Virginia, Connecticut and Texas. Founded in 1999 by president Joseph I. Rosenbaum, the firm specializes in acquiring and turning around properties, repositioning these acquisitions as stabilized, income-producing assets within its long-term portfolio.