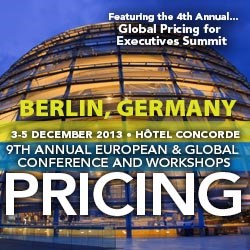 What pleases me most is the caliber of our attendees, who not only engage with the experts in seminars, but also take the time and energy to work with other attendees to share experiences, network and learn. Kevin Mitchell
Marietta, GA (PRWEB) November 26, 2013
Immediately after concluding its most successful event of the year, the 24th Annual Fall Pricing Workshops & Conference in Atlanta, the Professional Pricing Society (PPS), the world's largest professional society dedicated solely to pricing training and education, today announced the results of the Atlanta event's Attendee Satisfaction Survey.
Survey results revealed that the unique opportunity for networking with pricing colleagues and mentors from around the world, the strong pricing agenda presented by conference speakers and workshop instructors, and the watchful attention of the PPS Staff were the three primary factors leading to an excellent overall rating by Atlanta conference attendees.
"I am very proud of our survey results since I know how hard our event team works to deliver that 'just-right' mix of experts for todays knowledge-hungry pricing professional" said Kevin Mitchell, president of the Professional Pricing Society. "However what pleases me most is the caliber of our attendees, who not only engage with the experts in seminars, but also take the time and energy to work with other attendees to share experiences, network and learn."
Already the world's largest and most established pricing education association, PPS hasn't let up in its relentless pursuit of excellence. The Atlanta exit survey results are incredibly significant leading into PPS's next event and final event of 2013, the 9th Annual European & Global Pricing Conference and Workshops at the Hotel Concorde Berlin, December 3-5, 2013.
"Our member satisfaction surveys have consistently indicated that today's pricing professionals value discussion and idea exchange with other pricers. Because of this, the PPS Staff, event planners and program speakers have strived to provide unmatched networking and interaction at all of our 2013 events, including our upcoming Berlin conference," said Fabricio Lopez, VP of Marketing and Communications.
Berlin event attendees will benefit from the insight of pricing leaders from all over the world, including price leaders and practitioners, thought-leading consultants and experts, and leading-edge software demos. In addition, Berlin attendees joining the Pricing for Executives Summit will benefit from real world pricing experience through presentations from leading practitioners at global brands like DuPont and Pepsi.
For complete information on the 9th Annual European & Global Pricing Conference Berlin, or for research and resources related to the profession of pricing, visit the Professional Pricing Society at http://www.pricingsociety.com/berlin2013.
Professionals who interested in pricing but unable to attend the Berlin Conference can join the PPS professional community on LinkedIn, learn online with our large selection of online pricing training courses, and follow Conference news via the broadcast Twitter feed using hashtag #PPSBER.
About the Pricing Society
The Professional Pricing Society is the world's largest professional society dedicated solely to pricing training and education. The Pricing Society provides pricing professionals with current strategies, market trends, analysis, research and resources from today's leading pricing experts and technology. For more information on membership or events visit the organization's website at http://www.pricingsociety.com