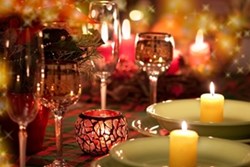 Packaging candles with attractive, professional labels will make them stand out this season. By working with Lightning Labels, businesses can create holiday candle labels that sell.
Denver, CO (PRWEB) November 26, 2013
Lightning Labels, leader in printing custom labels and stickers, is helping candle-makers of all kinds market their products effectively for the coming holiday season. As consumers prepare for the winter festivities, they're seeking out decorative items that add to Hanukkah, Christmas, New Year's and other winter holiday celebrations. Custom candle labels that embrace the season are sure to catch the eyes of shoppers, whether they're looking specifically for candles or are simply perusing stores, fairs and markets.
Holiday Candle Labels Can Help Boost Sales:
Major home accessory retailers and boutique candle-makers can increase sales this season with attractive holiday candle labels. "It's no secret that the weeks ahead represent a major sales opportunity for businesses," said Julie McCulley, Lightning Labels' Production Manager. "Candle manufacturers in particular can capitalize on seasonal marketing to increase sales. Festive candles play a central role in Hanukkah and Kwanzaa, and they're also frequently given as gifts for family members, friends and co-workers at Christmas time. Packaging candles with attractive, professional labels will make them stand out this season. By working with Lightning Labels, businesses can create holiday candle labels that sell."
Four Candle Label Ideas:
With holidays just around the corner, candle-makers of all sizes should act quickly to create holiday-themed product packaging. Here are four candle label ideas for unique, festive packaging that will command attention:
1. Indulge in Colors: Holiday colors can add a festive touch to candles. Custom candle labels from Lightning Labels are made using four-color printing technology. The advanced process creates a seemingly infinite range of hues, from bold and bright to soft and pale.
2. Include High-Resolution Graphics: The label space on candles is limited, so any images, logos, photos and other visual elements need to be high-quality. Partnering with a custom candle label printer like Lightning Labels guarantees your graphics will appear clearly on labels.
3. Flaunt Candle Scents: Promoting candle fragrances on labels should go beyond simply listing the scent. Use colors, images and unique fonts to portray candle smells and add multi-sensory appeal to products. Printing from Lightning Labels captures every design detail so holiday candle labels appear vibrant.                                                        
                            
4. Resonate with Health and Eco-Minded Consumers: More people are opting for products that are sustainably made with natural ingredients, and candle-makers can appeal to this demographic with the right labels. Lightning Labels ensures all text included on custom candle labels appears cleanly and legibly so businesses can communicate their products' finest attributes.
To help businesses prepare for the holiday season, on Friday, November 29, 2013, Lightning Labels will offer 15 percent off online label orders for one day only, using promo code BFRIDAY13 at checkout. This does not apply to reorders and the maximum discount is $1,000. Free ground shipping is valid through 12/31/13 and applies to orders shipped only within the U.S. and Canada. This offer cannot be combined with any other offers or promotion. Visit Lightning Labels for more information or updated promotions.
About Lightning Labels:
Lightning Labels uses state-of-the-art printing technology to provide affordable, full-color custom labels and custom stickers of all shapes and sizes, and now offers a full line of custom packaging products. From small orders for individuals, to the bulk needs of big businesses, Lightning Labels is equipped to handle and fulfill sticker, label and product packaging projects of all types. Best of all, like the name implies, Lightning Labels provides a quick turnaround to every customers' labeling and product packaging needs. Uses for Lightning Labels' custom product labels and custom stickers include food packaging and organic food labels, wine and beverage labels, bath and body labels, and nutraceutical products, such as vitamins, essentials oils, and herbal remedies, as well as event stickers, adhesive window stickers and more. Lightning Labels strongly supports the development of environmentally friendly printing materials and carries EarthFirst PLA, a new kind of green label material made from corn instead of petroleum. While operating as a high-tech printer, Lighting Labels prides itself on its personalized customer service. Lightning Labels provides one stop shopping for all of your label and product packaging needs. For more information and to place orders online, visit LightningLabels.com. For the latest in packaging news and labeling promotional offers, find Lightning Labels on Pinterest, Twitter (@LightningLabels), Facebook, Google+ and LinkedIn.