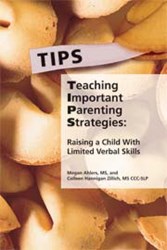 This book is a must-have for anyone who knows and loves a child who struggles to communicate. Share it with your friends!
Lenexa, KS (PRWEB) November 26, 2013
TIPS offers strategies to support communication and positive behaviors during playtime, daily routines, in the community, with relatives, and other everyday situations. The book can be used as a reference for finding practical, user-friendly solutions to common universal challenges encountered by parents and caregivers, including communication, behavior, technology, community outings, and sensory needs. Answers follow best practice and evidence-based strategies.
About the authors:
Megan Ahlers, MS, is a school administrator. She received both her undergraduate degree in education and her master's degree in special education from Indiana University. Megan has a combined 27 years in the field of education and has taught children ranging in age from 3 to 22. Her areas of expertise are early intervention, curricula programming, and shaping behavior. Megan has presented at the national, state, and local levels on autism, positive behavioral support, and other effective programming for students who are nonverbal, limited verbal, and/or have limited table readiness skills.
Colleen H. Zillich, MS, CCC-SLP, is an early childhood speech-language pathologist specializing in providing inclusive speech therapy services to children who are nonverbal or have limited verbal skills. Colleen received her bachelor's degree from the University of Iowa in speech and hearing sciences and psychology and her master's degree from Purdue University in speech-language pathology with an emphasis on augmentative and alternative communication systems. She has presented at the local and national level and participates on a local autism resource team by providing consultation and support for students with autism. She has also provided speech therapy services to children ages 9 months to 10 years of age.
About AAPC Publishing:
Established in 1999, AAPC Publishing's mission is to be the first source for practical solutions related to autism spectrum and related disorders. AAPC is an independent publisher, targeting professionals and parents alike. AAPC Publishing strives to offer publications at affordable prices so that important resources are available to anyone with an interest in the autism spectrum.
For media inquiries, please contact marketing(at)aapcpublishing(dot)net.