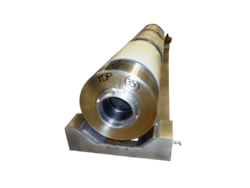 ANF responds to current HPP machine owners and operators who demand a higher cycle count before replacement of vessels.
White Pigeon, MI (PRWEB) November 26, 2013
ANF was born several years ago when Jerry Ludwick, CEO of ANF, developed a customer processing solution for Garden Fresh Gourmet that eliminated the need to double handle product that was ultimately going to be processed with HPP. The problem Jerry Ludwick and Garden Fresh Gourmet encountered is that the HPP manufacture could not fulfill high pressure basket orders to satisfy Garden Fresh Gourmet demand. In response to meet Garden Fresh Gourmet's high pressure basket demand, Jerry Ludwick assembled a team of engineers and mold makers to fabricate a high pressure processing basket.
Enter the year 2013 and HPP machine owners and operators are finding themselves in a similar position. Several years ago, they purchased HPP machines and now they are finding the need to replace vessels that are reaching end of life before they can be fully depreciated. As demand for pasteurization using high pressure processing increases and these owners and operators of HPP machines try to meet the demand, they find themselves running their machines 20 plus hours a day. A machine running 20 hours per day, 6 days per week at 90% efficiency, at pressures of 87,000 psi for 180 second hold-time, will process 45,000 cycles annually. The end result, machine owners and operators meet the end of life of the vessel in under 3 years. The problem, the depreciated life expectancy of this capital investment is 7 years. That leaves 4 years of depreciation on the books of an asset that needs replaced. The current cost of a HPP replacement vessel are between $400,000 to $500,000. In addition, transportation, and installation costs between are $25,000 and $100,000 depending on the urgency of the replacement, and downtime of the HPP owner and operators machine. "HPP Machine owners are demanding a cost effective solution," states VP of Business Development at ANF, Eric Lockovitch who further commented, "I am meeting with existing owners and operators of HPP Machines introducing them Evolution Series of HPP machines, and I am finding them asking me to build a replacement vessel similar to the Evolution Series for their existing machines."
In a response to the owners and operators request, ANF assembled a team of experts, led by Mr. Adrian Staruszkiewicz P.E. to conduct the Engineering Reviews, Chinese Manufacturer Audit, technical comments, technical direction, in High Pressure Vessel design with the goal of optimizing the cycle counts within the current manufacturer's dimensions. Jerry Ludwick CEO of ANF, said "This is an exciting time for ANF, our philosophy has always been to listen to our customers' goals and objectives and respond with solutions that put them in the most competitive position. By Mr. Lockovitch listening to our customers, we today find ourselves entering the ASME U3 aftermarket HPP manufacturing space with our first aftermarket product. A autofrettage replacement vessel for the 350 Liter Machine that has been designed for over 300,000 cycles which by no coincidence, allows ours customer to fully depreciated vessel over 7 years."
About All Natural Freshness
All Natural Freshness provides End-to-End HPP Solution in terms of HPP machine, HPP operation consulting service, HPP packaging, material handling, tolling program, recipe validation ect. to deliver a premium product with a fresher, safer, healthier with an extend double or triple shelf life of their all natural products. All Natural Freshness' goal is to bring HPP to the masses by providing solutions that allow companies to have "the lowest cost per pound with the fewest touches possible." To make that possible ANF has developed a solution that offers customer specific levels of automation versus manual operation and, the key to the whole puzzle, a stackable, moveable, shipping ready buffering system. For more information, visit http://www.allnaturalfreshness.com.
About AutoFrettage
Autofrettage is an elastic-plastic techniques to increase the pressure capacity of thick-walled vessels. When the vessel is subjected to an internal pressure, the internal portions of the part to yield and resulting in internal compressive residual stresses. The goal of Autofrettage is to increase the durability of the final product, while reducing the size and equipment cost. The technology is commonly used in the manufacture high-pressure pump cylinders, fuel injection systems for diesel engines, and battleship and tank cannon barrels.