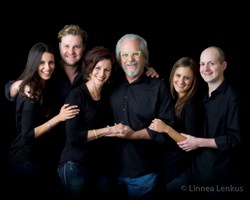 The true art of portrait photography is being replaced with gimmick photography.
(PRWEB) November 27, 2013
Los Angeles Family portrait photographer, Linnea Lenkus has long been an advocate of creating photography that is authentic and flattering. The veteran photographer says she can't help but let out a "disapproving sigh" at most of the photography out there. Lenkus says, "Digital cameras are a lot more affordable now and portrait photographers are popping up left and right. The problem is that they have no real experience and most of them are producing pictures like factory made products. The true art of portrait photography is being replaced with gimmick photography."
The common use of props and lack of creativity is what Lenkus believes to be the culprit in today's stale photography scene. "I just don't understand the obsession with sticking your baby in whatever you can get your hands on and propping them up in an unnatural pose." Lenkus believes that prop photographers today are too fixated on baskets and butterflies to notice that they have lost sight of what the artform is truly about: the subject. "Props are a crutch," says Lenkus, "they are a way to distract the viewer from plain old bad photography. Really great portrait photography is about excellent lighting and an artistic eye."
The cool air of winter and the holiday season reminds families everywhere to have their portraits taken before another year passes by them by. According to Lenkus, it is also the time of year some "extremely bad photography is being created. There are whole sections in the card aisles that are dedicated to awkward family portraits! My goal is to never even come close to being on one of those cards!"
What advice does Lenkus give to photographers sharing the same goal? "Keep it simple," shares Lenkus "make sure to have a thorough discussion with your client about wardrobe. Awful clothing decisions can dramatically affect the portrait." Lenkus suggests people dress in colors of the same tonal range and points out that dark clothing is the most forgiving with all body types and highly recommends black for large group photographs. "My only exception is with kids. They are the stars of the show and it is okay for them to stand out." With her clear vision of what good photography really is, Lenkus continues to please families seeking incredible portraits that will last a lifetime.
About Linnea Lenkus
Los Angeles photographer, Linnea Lenkus, specializes in Maternity, Children, Family and Celebrity photography as well as Fine Art Nude photography. Linnea is a highly experienced, internationally published, professional photographer with worldwide commercial success. In a photography session with Linnea, clients receive the benefit of her artistic eye and her technical mastery honed over decades of photography experience. Linnea Lenkus is the owner of two fine art portrait studios located in Pasadena and Long Beach California and the owner and curator of Los Angeles art gallery, Linus Galleries. See a photography video of Lenkus in action.