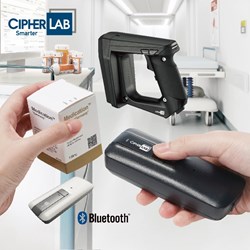 There is a growing trend of 2D barcodes in the pharmaceutical and healthcare applications, the 1664H antimicrobial pocket-sized scanner has enhanced features of 2D imager that will surely help satisfy the demands and increase staff's productivity.
Plano, TX (PRWEB) November 26, 2013
CipherLab USA, a global leader in the design, manufacture, and marketing of Automatic Identification and Data Capture/Collection products and systems, will exhibit its latest line of barcode scanners and mobile computers at the RFID in Health Care event in Washington, D.C., December 4th, booth #3 (Georgetown University Hotel & Conference Center). CipherLab will introduce the 1861 Bluetooth UHF RFID Reader designed to address the growing demand for UHF RFID applications in healthcare operations.
This new peripheral device can be used as a supplement to CipherLab's own mobile computers and many other Bluetooth®-enabled mobile computers, e.g. iPhone, iPad, Android phone and tablet. It provides you with additional UHF RFID read/write ability as add-on functions to traditional barcode capture approaches. Connect this IP64 rated unit to many SPP or HID supported Bluetooth Windows Mobile, Android, iOS , tablet, laptop, and desktop hardware configurations for all day use and to complement many existing software applications.
CipherLab will also have the antimicrobial protection 1564 and 1664 2D Bluetooth scanners on display that meet the growing adoption of 2D barcodes in pharmaceutical and hospital settings. The 1564 handheld 2D barcode scanner and 1664 2D pocket-size barcode scanner have been enhanced with many user options to complement your business efficiency & applications. With increased on-board 4MB memory the 1664 2D scanner can store over 240,000 scans and data. The easy replaceable Li-ion battery provides long working hours for all-day work and multi shift operations.
Stop by Booth #3 to catch up on recent developments at CipherLab, including the new CP60 and 9200 series Windows Mobile Computers. We look forward to seeing you in Washington, D.C.
For more details and specifications regarding CipherLab Mobile Computers and Barcode Scanners or request for demo, please send an email to NASales(at)cipherlab(dot)com or contact our office at 888-300-9779 by phone.
About CipherLab
CipherLab is a global leader in the design, manufacture, and marketing of Automatic Identification and Data Capture/Collection products and systems. The company's mobile computers and scanners are integrated into the networks of some of the world's best known logistics, retail, distribution, government installations and healthcare companies, helping them run more efficiently and effectively onsite and on the road. CipherLab USA is headquartered in Plano, TX. For more information, please visit http://www.cipherlab.com or like us at http://www.facebook.com/CipherlabUsa.