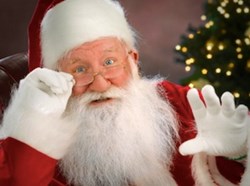 At Smile Ranch, we get to count our blessings every day and we have the best patients in the world.
Lehi, Utah (PRWEB) November 26, 2013
Kids deserve more for the holidays than their two front teeth, which is why Santa Claus is making a sleigh-stop at Smile Ranch Orthodontics Lehi location on December 7, 2013 to host the Toys for Tots drive. Everyone is welcome to join the festivities, meet Santa and donate unwrapped toys to bring an even brighter smile these holidays to local children in need. Corporations, local companies and individuals can make a big difference in a child's life for the holidays with their donations and Smile Ranch encourages other business to get involved.
'Tis the season to introduce the little ones to the Big Man on the North Pole, without those pesky lines at the mall. In the spirit of the season, the joy of giving and receiving are both being celebrated on December 7, 2013. Santa's already making his list, but he'll be checking it twice—and just in time for the kids to narrow down exactly what's on their wish list. However, it's also the time of year to practice giving. Bring a new, unwrapped toy (or a sleigh full) to the Lehi or Salt Lake City office and be rewarded with karma points, a big thank you from Santa and that gooey, warm feeling that's the perfect complement to the season.
Companies and corporations are welcome as Santa is actively recruiting more "Santa's helpers" for 2013, and what better way to inject a little oomph into your philanthropy efforts than helping to fatten up the piles underneath trees around Lehi? "At Smile Ranch, we get to count our blessings and good fortune every day and we have the best patients in the world. That is why we are giving back to the community – to help those less fortunate among us to have a joyous holiday season," says Dr. Alan Jensen. Non-profit organizations and charitable agencies go together with Toys for Tots like milk and cookies, elves and pointy shoes, and of course ugly sweaters and fleece pajama bottoms. Every toy donated will go to a child in need and is guaranteed to brighten their holidays.
There's no better way to bring a smile to a child's face than by donating a toy to be treasured throughout the year. Everyone needs a little help sometimes, including Santa, and those in the Lehi and Salt Lake City areas can help. It's never been easier to make a difference to those less fortunate, and there's not a more fun way to do so. From plush toys to Pokemon cards and everything in between, take some time to really engage in the spirit of the holidays. Spreading joy and cheer is part of the festivities.
Santa will only be in Lehi for this one-day event before he's whisked away to the toy shop up north by way of Rudolph, so don't miss out on this opportunity. Call it a new holiday tradition for the whole family, or a final philanthropic shebang for the whole office. Every toy makes a difference, and not even a Zoom-whitened smile can compete with the grins that will spread around the region when so many children get a little extra attention thanks to Santa and donors who truly care (although that professionally whitened smile can certainly come close). Stop by the Smile Ranch Orthodontics Lehi location on December 7 from 9am – 11am to kick off the happy holidays.