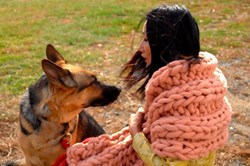 Loopy Mango Nantucket Wrap - available as Ready to Wear or Ready to Knit DIY Kit.
New York, NY (PRWEB) November 26, 2013
Loopy Mango cold weather accessories are hand knit in NYC with 100% domestic merino wool. Beginner friendly DIY kits are also available. With Loopy Mango Big Loop Yarn even a beginner knitter can make a chunky scarf in a matter of 15-20 minutes or a throw in a matter of just a few hours. Big Loop Yarn is made at our own facility in Massachusetts and dyed with 100% certified organic dyes.
About Loopy Mango:
Loopy Mango (http://www.loopymango.com) is owned and operated by Waejong Kim and Anna Pulvermakher. Waejong and Anna met at FIT and together they founded Loopy Mango in November of 2004. It was their love of knitting that was the inspiration behind Big Loop Yarn and knitted products. Big Loop is the thickest yarn available on the market today. Big Loop yarn production is labor intensive and each ball of yarn is hand crafted by our artisans in Brimfield, Massachusetts. Loopy Mango flagship store is located at 78 Grand St., New York, NY.
Waejong's designs are inspired by fashion, modern art, nature, antiques and people. She lives in Brimfield, Massachusetts with her husband, German shepherd named Loopy, and an orange cat named Mango.
About Henri Bendel:
Henri Bendel (http://www.henribendel.com), Manhattan's legendary Fifth Avenue boutique, has long influenced the shape of American fashion with an unmistakable sense of style and a keen eye for the new and the next in women's handbags, jewelry, and gifts. Known for its legendary brown & white striped shopping bags and hatboxes, Henri Bendel continues to translate the spirit and energy of New York City in their 30 stores nationwide. Twitter: @HenriBendel