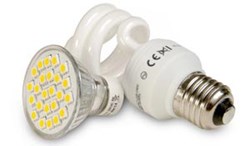 Energy efficiency is important but it is the quality of light that they need to pay attention to.
Chicago, Ill. (PRWEB) November 26, 2013
According to the U.S. Department of Energy, the Energy Independence and Security Act of 2007 was signed into law on December 19, 2007, establishing energy management goals and requirements – Congress passed this to promote the use of more efficient bulbs nationwide.
Beginning January 1, 2014, production of the 60W and 40W incandescent lamps will be eliminated; there have been a few of these phase-outs in the past, but this will definitely be one of the more difficult ones for consumers.
According to residentiallighing.com, EISA is being implemented over a three-year span and began January 1, 2012 with 100W incandescent lamps and in 2013 the 75W incandescent lamps were phased out.
In a residentiallighting.com article, Terry McGowan, Director of Engineering and Technology, said this new phase out will be a difficult adjustment but the lighting industry will modify accordingly.
"Something is going to happen here that we haven't gone through before and the lighting industry will have come up with answers that are easy to find and easy to understand, more so than ever before," McGowan said.
Although there is already increased availability for more energy efficient bulbs, this year's phase-out will be far more intense as 60W bulbs have the biggest market share. Manufacturers are beginning to offer various resources for consumers in order to aid them throughout this process but this whole phase-out is a learning process for everyone.
According to www1.eere.energy.gov, California is one step ahead as EISA's phase-outs were taken on one year earlier than the rest of the country and they have already reduced and ultimately eliminated 60W and 40W incandescent production; California is now seeing a major increase in the adoption of residential LED lighting.
Michael Siminovitch, Professor and Rosenfeld chair at the University of California, Davis said in a residentiallighting.com article that throughout this course energy efficiency is important but it is the quality of light that they need to pay attention to.
"The main point is that we need to develop regulatory processes, educational programs and other efforts that support the consumer and the industry in making that happen," Siminovitch said.
In order to prepare for this EISA phase-out, remember that consumers are not required to throw out the existing bulbs in their homes – manufacturers merely cannot manufacture specific bulbs based on EISA's specifications. As the industry and consumers move forward with this change, the array of energy-efficient substitutes out there is immense; consumers will be able to choose from better technology such as energy-efficient soft white bulbs, CFLs and LED options.