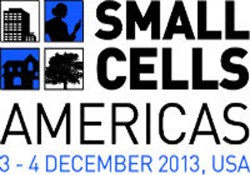 The panel explores what enterprises want in an in-building solution versus the solutions that are available to them
Sunnyvale, CA (PRWEB) November 26, 2013
SOLiD, a publicly-traded global communications technology innovator, is participating at the second annual Small Cells Americas conference as a Silver Sponsor and panelist. Ken Sandfeld, Vice President at SOLiD, will present on current and emerging in-building wireless solutions and trends.
Mr. Sandfeld will be joined by Alberto Boaventura (Oi, Brazil), Rob Soni (Alcatel Lucent) and Martin Ljungberg (Ericsson) to examine available technologies to address the challenges of in-building connectivity including Distributed Antenna Systems (DAS), Small Cell and Wi-Fi, and explore alignment between current offerings and venue owner requirements. Gordon Mansfield, Chair of the Small Cell Forum and AVP at AT&T, will moderate the panel session.
To learn more or schedule an on-site meeting, please contact SOLiD.
Event Information:
Small Cells Americas
December 3-4, 2013
"Meeting the Growing Coverage and Capacity Demands of Enterprise"
Tuesday, December 3 at 11:10 AM
Hilton Anatole – Dallas, TX
Speaker Information:
As Vice President for SOLiD, Ken Sandfeld leads market development activities for the Company's RF Amplifier and Optical Network solutions in North America. Ken possesses over 16 years of experience in the wireless infrastructure industry and is passionate about bringing cutting-edge, new technology to the wireless space. Prior to his current leadership role, Ken held management positions at MobileAccess, Remec, Spectrian and Zyfer. Today, Ken is focused heavily on bringing SOLiD's leapfrog technologies out of incubation and into the market to solve some of the industry's biggest problems. Those areas include ultra-high efficiency amplifiers for Small Cell and Indoor applications as well as low-cost DWDM Tunable Optical solutions for the Enterprise and Carrier markets.
Find more information about the conference at the Small Cells Americas website (http://www.smallcellsamericas.com ).
About SOLiD :
SOLiD is a global communications technology innovator that enables indoor and outdoor cellular, public-safety and Wi-Fi communications at some of the best-known and most challenging venues through industry-leading RF Amplification and Optical Transport solutions. With a pedigree that includes leading hospitals; Olympic, professional, and college sports venues; government, university and Fortune 500 corporate buildings and campuses; international airports and metropolitan subways; and other high-profile sites, SOLiD's Distributed Antenna System (DAS) and Small Cell Backhaul portfolio addresses current and future network densification requirements.
Learn more at the SOLiD website, read our blog, watch our YouTube Channel, and follow us on LinkedIn and Twitter. For further information please email info(at)solid.com or call (888) 409-9997.