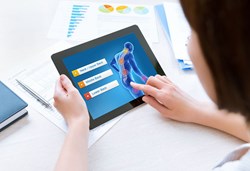 We wanted a simple, user friendly design that reflected who we are and how important our patients are to us.
West Orange, NJ (PRWEB) November 28, 2013
With the escalating use of mobile devices in America, tech trends, such as flexible foundations and seamless scaling, have become "must-haves" in functional website design. Atlantic Spine Center, an international leader in endoscopic surgery, has recently launched its newly upgraded, responsive and more interactive website in association with their recent ad campaign, "Tell Us Where It Hurts."
After the successful launch of the new website design showcasing their improved Back & Neck Pain Evaluation Tool and responsive interface, the site has seen a significant spike in visitors who are interested in learning more about Atlantic Spine Center's minimally invasive procedures, useful pain tool and helpful condition and treatment pages.
"We wanted a simple, user friendly design that reflected who we are and how important our patients are to us," said Dr. Kaixuan Liu, President of Atlantic Spine Center. "It is important for us to keep up with technology and ensure that people can access our information on any mobile device.
Connectivity, optimal viewing experience and easy navigation are three components that the new design offers. Designed for a wide range of browsers and mobile devices, such as tablets, smartphones, the website features testimonies from several patients of Atlantic Spine Center who speak freely about how minimally invasive surgery changed their lives and relieved them from chronic back pain symptoms.
Health statistics confirm that about 80% of the American population has suffered from back pain at one time or another. Marketing research estimates that 60% of Americans own a smartphone and/or use the Internet on a device. As a trusted leader in back pain treatment, Atlantic Spine Center wanted to make sure its website stayed in line with the times and its back pain solutions were at the fingertips of those in need.
"Finding answers through mobile devices is very important to many people in the United States," Dr. Liu continued. "Since we have made it easier to find our forms and access our Neck and Back Pain Evaluation Tool, we have had an increased influx of visitors to the site and expect even more in the upcoming months."
Atlantic Spine Center relies on a cloud based server to handle any number of visitors to the website. As the traffic to the website increases, the scalable server expands to accommodate. Atlantic Spine Center's website offers a variety of state-of-the-art tools and progressive treatment options specifically for back pain sufferers.
With the power behind info on-the-go coupled with back pain solutions and true minimally invasive procedures, people who need answers "stat" will find them quickly at http://www.atlanticspinecenter.com.