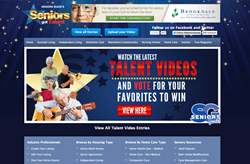 The deadline for new entries to the talent contest for ages 55+ is Friday December 27, 2013.
Richmond, VA (PRWEB) November 27, 2013
Calling all senior talent videos! There is one month left to enter to win one of three cash prizes - $1000, $500 or $250 from Seniors Guide's SENIORS GOT TALENT, sponsored by Brookdale, a leading provider of senior living solutions in the United States. The deadline for new entries to the talent contest for ages 55+ is Friday December 27, 2013.
Current top videos include, "Runk and Pratt Cover Don't Stop Believin' Music Video" by residents of Lynchburg, VA senior living community Runk & Pratt.
"It showcases the younger versions of the seniors walking into the community and later aging but meeting themselves in the future," says Brian Runk of Runk & Pratt.
This year's SENIORS GOT TALENT features entries from Assisted Living and Nursing Homes in Ohio, New Jersey, Virginia, South Carolina, Georgia, Illinois, North Carolina and Indiana. Along with retirement communities, individuals ages 55+ have also independently submitted videos.
Ed Pettersen of Chesterfield, VA is a singer and songwriter who entered his video, "That's All I Need to Know" to this year's talent showcase.
"I heard about [SENIORS GOT TALENT] through someone at the Shepherd's Center in Chesterfield, VA", says Pettersen. "They ran a contest last year called Senior Idol and I placed second, so I guess they thought I should enter".
Now in its third year, SENIORS GOT TALENT has already received more video submissions than previous years. That number is expected to grow.
"Each year is bigger than the last", says Katharine Ross, Vice President of Sales & Marketing for Seniors Guide.
Some of the talent contest's previous entrants and winners have returned this year.
"It's nice to see everyone having fun and the support each video has received", says Ross.
To view current talent videos or to submit your own, visit http://www.seniorsguideonline.com/seniors-got-talent.
Seniors Guide, a Richmond, Va.-based company publishes Seniors Guide magazines throughout Cincinnati, Ohio; Dayton, Ohio; Indianapolis, Ind.; Raleigh-Durham, N.C.; Richmond, Va.; and Roanoke-Lynchburg, Va., and features a correlating website of SeniorsGuideOnline.com. Seniors Guide's mission is to help seniors and their families find the information they need on options available in senior housing, senior care, assisted living, independent senior living, retirement communities and other retirement living needs. Seniors Guide also has resources at http://www.HomeCareChoice.com for Cincinnati, Ohio; Dayton, Ohio; Raleigh-Durham, N.C.; and Richmond, Va. Ross Publishing, Seniors Guide's parent company, began in 1991 and has been publishing helpful, free publications and websites ever since.
Brookdale Senior Living Inc. is a leading owner and operator of senior living communities throughout the United States. The company is committed to providing senior-living solutions within properties that are designed, purpose-built and operated with the highest-quality service, care and living accommodations for residents.
Currently, Brookdale operates independent living, assisted living, and dementia-care communities and continuing care retirement centers, with over 650 communities in 36 states and the ability to serve approximately 67,000 residents. Through its Innovative Senior Care program, the company also offers a range of outpatient therapy, home health and personalized living and hospice services. For more information, visit http://www.brookdale.com.