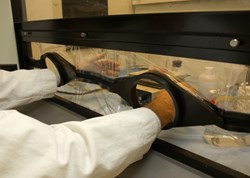 Williamsville, NY (PRWEB) November 26, 2013
Isolation Sciences is proud to announce that they are taking their patented Continuous Access Port (CAP) technology nationally and worldwide.
This technology aims to improve the energy efficiency of ventilated laboratory fume hoods and improve the containment capability of laboratory safety enclosures. National resellers, such as Siemens, Pharmaceutical Containment Technologies, and Newmatic Engineering Inc, and worldwide resellers, such as Jon Dec Engineering Ltd (Western Australia) and Airex (Japan), are introducing the CAP technology into new markets.
"We do not make fume hoods; we make them more energy efficient and improve containment capability in fume hood operations," said Isolation Sciences CEO, Charles Akers.
Fume Hood CAP is a retrofit to any existing laboratory fume hood which improves the energy efficiency of the fume hood by lowering the amount of heated/cooled facility air that must be exhausted to the outdoors, resulting in greater than 80 percent reduction of energy costs in fume hood operations. It also improves the containment capability of an enclosure by restricting the ability of contaminates to leave the fume hood and entering the laboratory environment, resulting in cleaner breathing air in the laboratory space.
Siemens Building Technology, Isolation Sciences' launch partner, has been focused on making existing laboratory fume hoods energy efficient in laboratories with an ROI of less than six months. The Fume Hood CAP is an integral part of Siemens' Green Laboratory Solution to make research buildings into more energy efficient facilities.
Isolation Sciences is now expanding its network of resellers with distribution channels such as Newmatic Engineering, Inc (NEI) in southern and northern California and Pharmaceutical Containment Technologies in St. Louis, MO.
NEI modifies laboratory and fume hood air handling controls to improve energy efficiency in research/development and manufacturing facilities in southern and northern California. PCT is a custom fabricator of containment enclosures for the pharmaceutical and chemical industry. They are incorporating Isolation Sciences patented technology into laboratory enclosures to improve on the accessibility to work within an enclosure while still maintaining the desired containment required for safe operation.
Isolation Sciences has entered the international market in pharma containment enclosure with two companies that are integrating their CAP technology into pharmaceutical research and development laboratories: JohnDec Engineering Pty Ltd in Australia and Airex in Japan.
JohnDec fabricates custom designed pharmaceutical enclosures for laboratory use in the Australian and New Zealand markets. Airex is a fabricator of pharmaceutical containment enclosures (Isolators) and reseller of the Fume Hood CAP for pharmaceutical laboratory fume hoods for the Japan market.
For more information about Isolation Sciences and their new CAP technology, visit their website at http://www.isolationsciences.com/.
<br>About the Company:<br>Isolation Sciences LLC is an innovation leader in providing value added, practical energy management products to realize savings in commercial laboratory energy consumption and isolation/containment risk management solutions to protect individuals against airborne chemical and biological vapors and aerosols that are hazardous to human health. The company's patented Continuous Access Port [CAP] concept provides practical and cost efficient air containment solutions to meet energy and risk management needs in the commercial, academic and medical markets. For more information, visit Isolation Sciences' website at http://www.isolationsciences.com/.