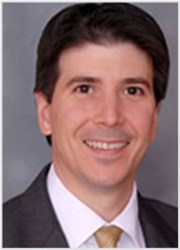 To book and appointment or find out more information about Sports and Orthopaedic Center please call (973) 758-1078 in New Jersey and (212) 518-4529 in New York.
Livingston, NJ (PRWEB) November 26, 2013
Dr. Louis Rizio, Sports Medicine and Orthopaedic Center physician, was all smiles pictured in New Jersey Monthly Magazine as one of New Jersey's Top Doctors in 2013. Each year, New Jersey Monthly compiles this list of doctors based on reviews and recommendations by their peers. This year, 974 doctors from the entire state were selected as the Jersey Choice of Top Doctors. Dr. Rizio joins this list, having been selected as one of the top by doctors in New Jersey.
This is a well-deserved award for Dr. Rizio, who is praised by patients for his thorough, knowledgeable consultations, effective treatments, and kindness towards each individual case. In his practice, Dr. Rizio puts his patients' needs first, ensuring that they feel comfortable and cared for during procedures. Dr. Rizio works with his patients to achieve their respective goals, helping them return to their desired physical activity as soon as possible. He performs his treatments and surgeries with precision and care for each respective person regardless of the nature of their injury.
Rizio specializes in sports medicine and orthopaedic surgery, having completed medical school at New Jersey Medical School, residency at Tufts University, and a sports medicine fellowship at the University of Miami where he assisted in the care of college and professional sports teams in Florida such as the Miami Dolphins, University of Miami Hurricanes, and the Florida Marlins. Dr. Rizio is currently the head physician at Sports and Orthopaedic Centers with two locations in Livingston, NJ and New York, NY, and assistant clinical professor of orthopaedics at NYU Hospital for Joint Diseases. He has published various works on sports injuries and has been conducting research on cartilage regeneration through adult stem cells.
Dr. Rizio's dedication and commitment to treating his patients as well as his ongoing passion for his work makes him one of the most noteworthy doctors in New Jersey.
To book an appointment with Dr. Rizio or to find out more information about Dr. Rizio's procedures and treatments, please visit http://www.sportsandorthocenter.com or call (973) 758-1078 in New Jersey and (212) 518-4529 in New York.