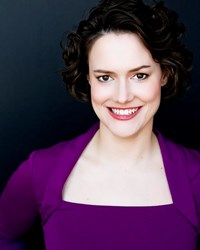 Minneapolis, MN (PRWEB) November 26, 2013
Minneapolis marketing agency Preston Kelly recently announced the addition of senior digital producer Heather Kvidera to its award-winning team.
Kvidera joins Preston Kelly with experience from local agencies Zeus Jones, mono and Carmichael Lynch, among others. After beginning her career in account management, Heather made the transition to production during her six years at mono, where she produced the award-winning Blu Dot Real Good Experiment. She's worked on integrated campaigns for such prestigious brands as Apple, General Mills, Harvard Business School, Herman Miller and Porsche.
"With an expanding roster that now includes two true global brands, InSinkerator and Medtronic, we needed a producer with the chops to push us in new directions," according to Preston Kelly digital director Tom Schooley. "We are charting new territory daily with everything from iPad games to chef-inspired websites, and Heather comes from a background built on organizing successful experimentation."
Believe it or not, Heather has interests outside of wrangling grown adults who argue about the supremacy of Facebook over Twitter. Sometimes all her adrenaline junky activities blend into one intense X-Games style fantasy, in which she skydives from 12,000 feet in the air, slips into the front seat of a roller coaster, catches a flying funnel cake out of midair, then back flips off the coaster onto her chopper and jumps over a shark tank with said chopper. So what if the Fonz did it first? She does it better (in her dreams, at least).
About Preston Kelly
Preston Kelly is a full-service, independent marketing agency in Minneapolis that creates Iconic Ideas for its clients across multiple categories including entertainment and tourism, financial services, healthcare retail. Preston Kelly was recently named as one of the top 25 Most Effective Independent Advertising Agencies in America by Effie Worldwide. Preston Kelly is a past recipient of Advertising Age's Midwest Small Agency of the Year and Radio Mercury Awards' Integrated Campaign of the Year. Preston Kelly is a member of Worldwide Partners, the world's largest network of independent marketing and communications firms. To learn more about Preston Kelly, visit PrestonKelly.com.