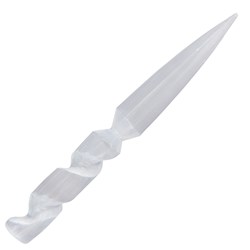 Colebrook, NH (PRWEB) November 26, 2013
The holiday season is almost in full swing and it's time to find unique gifts that loved ones will enjoy. Everyone wants the presents they give to be well-received and appreciated, but it's not always easy to find something affordable, high-quality, and unique without spending a lot of time and money searching. Knowing what is popular and selling well can help make those choices a little easier, so the New Age Source is sharing its best sellers from the past year.
Customers who are looking to purchase meaningful gifts that can't be found anywhere else will enjoy great holiday savings as well, with 20% off items store-wide from Friday, November 29th through Monday, December 2nd. The long sale hours provide ample time to shop around and find the perfect gift. Online shopping is a safe, secure way to avoid common holiday shopping hassles.
Here's a small sampling of the best sellers from the past year:
4-Inch White Selenite Rectangle Stones
These beautiful rough selenite rectangles can be placed around any area to neutralize negative energies and ensure a calm, peaceful environment.
Curved, Chambered Wood Pendulums
The top of this wood pendulum unscrews, revealing a hidden chamber. It is attached to a silk cord. Pendulums are used to enhance intuition and help answer pressing questions.
Volcanic Sandstone Statue and Incense Holder Meditating Buddha
A beautiful volcanic sandstone Buddha statue that can also be used as an incense holder. This art has been part of the culture of Bali for centuries.
Dreamcatcher Beaded Purple Feathers with Iridescent Pink Beads
This bright, fun dreamcatcher features tiny shells and purple feathers that hang from four smaller webs. A truly unique style.
These are just a few of the top sellers shared by the New Age Source. Learn more by visiting http://www.thenewagesource.com.
About the New Age Source
The New Age Source is a top supplier of Metaphysical and New Age products from around the world. Many of their items are exclusive, ensuring a truly one-of-a-kind purchasing experience.