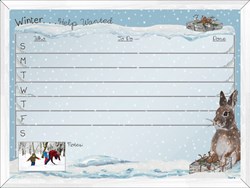 Arvada, CO (PRWEB) November 27, 2013
Tailor Made Whiteboards, innovator in customizable dry-erase boards for the home, introduces another frame option for its custom-made whiteboards. The new white frame is designed to complement the recently-released holiday designs, and supports the company's mission of making beautiful products that coordinate with any home's decor. White is now available in both the Quick Change and Fixed frame options, and is fabricated in the same high-quality solid wood as the other frame options.
"We are constantly evolving our product lines to meet our customer's requests, and the introduction of white frames with the Holiday 2013 designs was a natural fit," says Becky Roche, Marketing Manager for Tailor Made Whiteboards. "The new white frame beautifully highlights many of our winter designs including Snow Crystals and Winter's Gift, as well as many of Tailor Made's other designs. We are delighted to offer our customers this new frame option, and of course are always willing to take custom frame color requests as well."
Tailor Made Whiteboards makes high-quality whiteboards to organize the activities of hectic households. The company's dry-erase Chore Boards, Activity Planners, and Menu Planners can be personalized to match any home's unique décor, and can be easily changed and updated over many years of use without ever buying a new one. All the company's products are built in the USA and guaranteed to wipe clean and remain stain-free over many years of use. For more information call 1-888-280-9494 or visit http://www.tailormadewhiteboards.com.