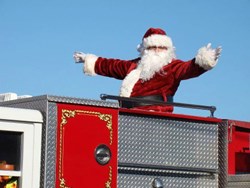 Petersburg, W.Va. (PRWEB) November 26, 2013
Mark your planners for five festive holiday happenings this year in Grant County, W.Va. Officially kicking off the Holiday season this year will be the Lighting Ceremony at Welton Park, home of the annual Christmas Festival of Lights. Other familiar events include the Snowflake Express, Breakfast with Santa Train Ride, Old Time Christmas and the Petersburg Christmas Parade.
The magic returns to Welton Park on Thursday, Nov. 28, with the official Lighting Ceremony, to be held at dusk. Walk or drive through the park to enjoy the annual light show. The Festival of Lights at Welton Park is courtesy of Grant County Parks and Recreation and can be enjoyed by all ages through January 1, 2014.
The Petersburg tradition, Old Time Christmas, returns with a special reading of "Twas the Night Before Christmas," taking place December 13, 2013 at 6 p.m. at the Landes Arts Center. Enjoy Christmas Carols, a performance by the Petersburg High School choir, and the lighting of the tree. Be sure to keep an eye out for Mrs. Clause.
The magic of Santa comes to life on the Snowflake Express on Friday, Dec. 13, 2013 and Saturday Dec. 14, 2013 at the South Side Depot in Petersburg, W.Va. Board the Snowflake Express at 6 p.m., 7:30 p.m. and 9 p.m. Once aboard, enjoy some hot cocoa and cookies with Santa himself. Shanna Bowers and friends will lead the Christmas Carols as the train makes it's way to the Festival of Lights at Welton Park.
Tickets are $10 a piece for children 2 to 12 years of age; Tickets are $12 for adults (12 years and older). Santa is available for photos before and after each train ride inside the South Side Depot.
On Saturday, Dec. 14, 2013 at 9 a.m., join Santa at the South Side Depot for the Breakfast with Santa Train Ride. Once aboard the train, enjoy a continental breakfast of muffins, danishes, and fresh fruit.
You'll experience exquisite views of Grant County countryside, traveling past historic Welton Park and on to Baker Rocks. Listen to a reading of "Holiday Magic on the Farm" written by West Virginia Authors Marla Pisciotta, Jim King and Don Kesner. All children will receive a special gift from Santa himself.
Tickets are $20 a piece. Children under two years of age are free.
Santa Clause is coming to the annual Petersburg Christmas Parade, taking place on Saturday, Dec. 14, 2013 at noon, where Santa will make an appearance on a fire truck. Children will have the opportunity to sit on Santa's lap while parents take pictures. Sponsored by the Grant County Chamber of Commerce.
Grant County, West Virginia is host to several nationally recognized attractions including Dolly Sods Wilderness Area, Smoke Hole Caverns and the North Fork Mountain Trail. The area is rich in history with a variety of historical structures and sites. Annual events include elegant Dinner Trains, Spring Mountain Festival in late April, and the Christmas Festival of Lights holiday light display at Welton Park. Visit http://www.grantcountywva.com for more information.