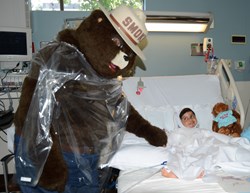 West Hills, CA (PRWEB) December 02, 2013
Doctors, staff, and former patients of the Grossman Burn Center ("GBC") will recognize the extraordinary courage and selflessness of firefighters and other emergency first responders at GBC's annual Burn Survivors Holiday Reunion. Themed, "Honoring Our Heroes," more than 100 burn survivors, family members, and firefighters from throughout Los Angeles and Ventura Counties along with our National Wildfire Prevention Symbol, Smokey Bear will participate in the event on December 7 at LAFD Station #84 in Woodland Hills.
"This year's theme 'Honoring Our Heroes' gives our survivors the opportunity to thank first responders for their passion and their service. For some, this will be their first opportunity to personally express their gratitude for the kind of life-saving care they received after experiencing their burn injury," stated Dr. Peter Grossman, Medical Director of the Grossman Burn Center at West Hills Hospital. "We will also be honoring each burn survivor as 'Hero' for the courage it takes to survive and overcome a burn injury. Christopher Reeve once said, 'A hero is an ordinary individual who finds the strength to persevere and endure in spite of overwhelming obstacles.' It will be a very emotional and heartwarming afternoon."
GBC doctors, nurses and staff, along with a group of dedicated volunteers, will decorate the station, cook, and serve dinner all in attendance. The night's program will include a formal LAFD Color Guard, dedication to first responders and burn survivors, and some words from Smokey Bear.
Elaine Rojas, RN, GBC Education and Outreach Coordinator, commented, "Group events for burn survivors are an important part of the healing process. Through their shared struggles, survivors are able to provide comfort and support that improves self-esteem and builds strength, confidence, and long-lasting relationships. This kind of ongoing engagement with our former patients is what distinguishes us as a comprehensive burn center."
This year's event is being underwritten by several generous sponsors: The Circle of Care Burn Foundation, The International Brotherhood of Electrical Workers Local no. 47, Firefighters' Quest, the Milken Family Foundation, Winefield Laboratories and Richard and Elizabeth Grossman.
About the Holiday Reunion:
When: December 7, 2013 at 4 pm
Where: Los Angeles Fire Station #84 on Burbank Blvd. in Woodland Hills
Contact: Cathy Butter, 818/676-4736; cathy.butter(at)hcahealthcare(dot)com
About Grossman Burn Centers:
Founded in 1969 by Dr. A. Richard Grossman, the Grossman Burn Center is the largest plastic surgery-based burn practice in the western United States. Headquartered at West Hills Hospital, the Grossman Burn Center has facilities in Bakersfield, CA, Phoenix, AZ, and has plans to open in Kansas City, MO this December. Renowned for its expertise in providing acute and reconstructive burn care, rehabilitation and post-treatment emotional and psychological support, GBC has received global recognition for its treatment of some of the most difficult and high-profile burn cases in the world. For more information: http://www.grossmanburncenter.com.