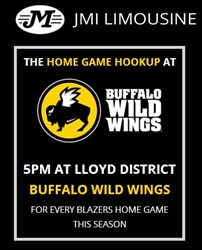 The Home Game Hookup is a great perk for Trail Blazers fans provided by Buffalo Wild Wings and JMI Limousine.
Portland, OR (PRWEB) November 27, 2013
What is the Home Game Hookup? Great question. The Home Game Hookup is a great perk for Portland Trail Blazer fans provided by Buffalo Wild Wings, 1080 The Fan and JMI Limousine. Luxurious party buses transport fans to the Moda Center Arena in Portland from the Lloyd District Buffalo Wild Wings and back during every Trail Blazers home game! Parking at Buffalo Wild Wings is free and so is the party bus shuttle from JMI Limousine.
The party bus shuttles provided by JMI Limousine comfortably transport 24 passengers at one time so entire groups can arrive at the Moda Center together. Multiple trips are made from BWW and back to ensure everyone arrives to the game.
The Home Game Hookup is also featured in the new video from JMI Limousine titled "Experience Oregon Luxury." In this video, one of JMI's Luxury Party Buses is pulling up to the Lloyd District Buffalo Wild Wings, transporting excited Trail Blazers fans after the game. This is immediately followed by the group of fans enjoying delicious wings and great beer from Pyramid Breweries in celebration of the home game victory.
Many other great scenes include breathtaking winery shots taken at Methven Family Vineyards and amazing golf shots from the Hood River Country Club. Most of the spectacular aerial footage was provided by ATI-Aerial Technology International.
JMI Limousine contracted David Fuller and Aerial Technology International (ATI), in collaboration with Total Market Exposure, to capture the awe inspiring footage. One of ATI's professional pilots, Kenny McDonald, soared above multiple locations using a DJI S800 EVO, equipped with Wookong M Autopilot that was assembled by Aerial Technology International. This advanced autopilot system has built in safety features such as the fail-Safe mode that allows the craft to safely return home, making it perfect for video production. The S800 EVO is capable of 20 minutes of flight while filming with the Sony NEX5 camera mounted on a Zenmuse 3 axis stabilized camera Gimbal. This advanced 3 axis camera gimbal features brushless motors which provide smooth footage, like the clips captured flying over Methven Family Vineyards in Oregon Wine Country. After working with ATI the owner of JMI Limousine, Johnny Meeke, told us, "I'm very impressed with ATI's performance and attention to safety, because safety is always a top priority at both JMI Limousine and JMI Insurance."
As the founders of the "Say No to DUI & Yes to JMI" campaign, in addition to the "Look Before You Book" movement that encourages customers to check for City of Portland Operating Permits and proper insurance before booking, safety while having fun is definitely a top priority at JMI Limousine.
The Experience Oregon Luxury video is featured on JMI's new website designed by Total Market Exposure. When people visit PortlandLimos.com, they will find pictures provided by local Portland based photographers such and Merc Photography, Purely Yours Photography and Colleen Zobel Photography. On the website, visitors can tour inside each limousine or party bus in JMI's fleet of luxury vehicles prior to renting, so they know exactly what they're paying for. People can also find more information about the Buffalo Wild Wings Home Game Hookup, full Blazers schedule and participating sponsors.