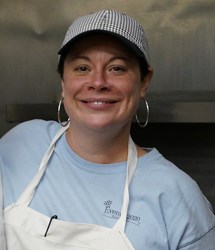 Not only is it the best priced culinary program, but I learned more with Escoffier Online than I did at my traditional culinary school.I recommend it to any student looking to start in culinary arts. - graduate Megan Alig
Chicago, IL (PRWEB) November 26, 2013
http://www.escoffieronline.com, Escoffier Online International Culinary Academy, the first-ever online culinary school, is proud to share the success story of its first student graduate Megan Alig. After graduating from the online culinary arts program, Megan became sous chef for Events 2020, a national catering company. Megan attended both traditional culinary school as well as Escoffier's online program and attributes her success in finding a career after graduation to the in- depth curriculum and chef mentoring provided by the Escoffier Online International Culinary Academy program.
"Not only is it the best priced culinary program, but I learned more with Escoffier Online than I did at my traditional culinary school. I would recommend it to any student looking to start in culinary arts or anyone who just wants to learn more when cooking at home," said student graduate Megan Alig. "I feel like I got just as much of an education going through the online program as I would have spending $80,000 on a two-year program. With the program online, you can take your time, which is what I was looking for being a full time mother and having a full time job."
Tuition for both the Culinary Arts and Baking and Pastry programs are less than $4,000 each with a new series of short-focused classes such as "Introduction to Knife Skills" and "Baking and Decorating Cakes" for $269. Inspired by the world-renowned Escoffier name, the chef-designed programs cover the building blocks of culinary and pastry arts education, teaching classical fundamentals alongside contemporary trends and techniques. Courses are comprised of a series of interactive learning modules featuring richly detailed video tutorials. Each module concludes with an assessment that includes self-evaluation and one-on-one mentor review. Throughout the learning process, students have constant access to executive chef mentors, are provided with additional synchronous chef-led weekly webinars, engage in weekly live Google+Hangouts, and become part of an active online student community. With 24x7 access to lessons and support, students can continuously work on perfecting techniques and share ideas, tips, and questions with fellow classmates in an inviting, collaborative online environment. They also begin building a customized online portfolio the instant they enroll, with details on completed coursework and skills, images of successful dishes, comments from chef mentors, and more that can be easily shared with prospective employers. Students who spend 5-10 hours per week on average will complete the Culinary Arts program in about four to six months and the Pastry Arts program in three to four months. All graduates are "Escoffier Certified".
To enroll, or to find more information on Escoffier Online International Culinary Academy, visit http://www.escoffieronline.com or call 855-696-6602.
About Escoffier Online International Culinary Academy
The Escoffier Online Culinary Academy is the first-ever online culinary school, offering professional culinary training for aspiring chefs and food enthusiasts alike. Modeled after the most prestigious culinary institutes in the world and inspired by the world-renowned Escoffier name, Escoffier Online offers a comprehensive curriculum of cooking techniques and fundamentals – without the physical, financial, and time constraints of a traditional school. Escoffier Online was launched by Triumph Higher Education Group (http://www.triumpheducation.com), a company dedicated to elevating the quality and experience of vocational educational programs both on-site and online. Escoffier Online has been approved and recognized by a number of leading culinary organizations, including the American Culinary Federation (ACF) Chicago Chefs of Cuisine Inc., the American Personal & Private Chef Association, and others. http://www.escoffieronline.com
Triumph Higher Education also owns and operates the Auguste Escoffier Schools of Culinary Arts located in Austin, Texas and Boulder, Colorado. The Auguste Escoffier Schools of Culinary Arts offer professional culinary arts programs based on the methods, principles and systems of Auguste Escoffier, the international culinary icon and the source of modern cooking. Students have the opportunity to learn history and context directly from the Escoffier family and expert chef instructors. The Schools' Culinary Arts and Pastry Arts certificate programs offer rigorous industry skills training, Farm To Table ® curriculum as well as grounding in the standards of professionalism and excellence sought by employers. http://www.escoffier.edu