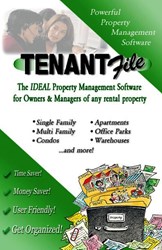 The majority of the improvements that we made were suggested by our clients through our support system
Austin TX (PRWEB) November 26, 2013
With this major Version 8 release, the Tenant File is adding hundreds of improvements and additions to their current Version 7 product. The beta includes automatic rent increases, backup reminders, new reports, additional bank accounts, expanded email capabilities, and many other improvements that have been requested by customers. Beta test sites will receive a discount on the final product release.
W G Software, Inc. has been providing top of the line rental property software for over 15 years, and has thousands of real estate offices, landlords, property owners, and property managers utilizing it every day. Over 200,000 rentals are under management with the Tenant File software. Wayne Gathright, president says "We listen closely to our customer's ideas and suggestions." Gathright says that "The majority of the improvements that we made were suggested by our clients through our support system. We always welcome their input and appreciate the opportunity to make the Tenant File even better."
The new Tenant File Version 8 is expected to be released at the beginning of 2014. This new version also tightly integrates with other services, such as tenant screening, ACH deposits, and vacancy uploads to the web. There will be upgrade paths to current customers that are seamless, not requiring a difficult installation or re-entering of data. The program, which runs on any Windows compatible system, will be offered as a download and is installed on the computer desktop of the user's system.
This new offering enhances the Tenant File software as a leader in property management products, which includes accounting for landlords, vacancy uploads and syndication, work order creation, lease designer software, real estate sales tools, property management forms and tax form software.
About the Tenant File Property Management Software
By staying on top of the newest technology, yet including the security and speed of desktop software, the Tenant File Property Management Software remains a true leader and pioneer in the field of rental property management software. For more information, contact the Tenant File through their website at http://www.TenantFile.com.