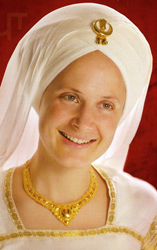 "One of the most amazing surprises of my life!" - OPRAH on Snatam's surprise performance
Los Angeles, CA (PRWEB) November 26, 2013
Praised by millions for the presence and awareness her voice brings to the spiritual genre, best-selling musician and singer Snatam Kaur finally shares how her Sikh faith has shaped her daily life and her music on Oprah's network OWN, in an original short, "Snatam Kaur: I Believe."
A kirtan songstress of over 20 albums with the record label "Spirit Voyage" including the renowned Gold Record "Grace," Snatam Kaur kicks off this series of short films about what people believe by bringing Sikhism (one of the World's oldest religions) into sharp focus.
"Shabad is the sacred energy or recitation of sound, and Guru means the living teacher. For Sikhs, our living Guru exists within the sacred words of our tradition and physically within the Sikh holy book known as the Guru Granth Sahib." - Snatam Kaur
The essence of being a Sikh requires daily rituals such as chanting, meditating and living in a way that benefits others over one's self. And when discussing these rituals, not only does Oprah Winfrey list Snatam Kaur's version of "Ong Namo" as a must-have accompaniment, Oprah also ranks Kaur's surprise performance at her 2012 birthday celebration as, "One of the most amazing surprises of my life!"
In addition to Snatam Kaur, Oprah also sits down with bestselling author and TED prize winner Karen Armstrong, who discusses her new book, "Twelve Steps to a Compassionate Life," where she outlines simple practices anyone can do in hopes of making a lifelong commitment to creating a more harmonious world.
The "Super Soul Sunday Original Short" will air Sunday, December 1, 2013 at 11 a.m. ET/PT on OWN: Oprah Winfrey Network. The 11 a.m. hour will be live-streaming WORLDWIDE and everyone can watch at 11 a.m. ET/PT.
###
BFM Digital, Inc.
BFM Digital is a global digital music company committed to serving the independent music community and delivering quality music, spoken word and video content to leading online retailers worldwide. Representing a diverse catalog of indie labels, artists and publishers, BFM distributes to all of the major music services including iTunes, Amazon, Rhapsody, eMusic, Napster, Walmart, Nokia and many more. With an unparalleled commitment to personalized service, BFM works closely with their content providers from around the world to ensure maximum exposure of their catalog by customizing marketing efforts and building strong relationships with BFM's digital store partners.