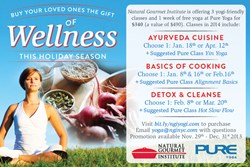 New York, NY (PRWEB) December 03, 2013
Treat your loved ones to the gift of wellness this holiday season. At Natural Gourmet Institute, we know that wellness goes beyond being mindful of what you eat, that's why we partnered with like-minded institution, Pure Yoga, to offer a package that feeds the body and soul through nourishing cooking courses and delicious yoga classes.
For a limited time, Natural Gourmet Institute is offering 3 yoga-inspired cooking classes and 1 week of complimentary yoga at Pure Yoga for only $340 (a $490 value).
Classes included in the special are:
Ayurvedic Cuisine, Date options: Saturday, January 18th or April 12th, 2014 10:00 a.m. - 5:00 p.m.
The ancient art of Ayurveda is central to many of yoga's basic tenants. Learn the fundamental principles of Ayurveda including: consciousness, mind & body health, the theory of food & digestion, balancing a menu, identification of the various doshas, and how to prepare a delicious meal using these theories.
Suggested Pure Yoga class: Yin Yoga
Basics of Cooking, Date options: Wednesday, January 8 and January 15th 2014, 6:30 - 9:30 p.m. or Sunday, February 16 2014 10:00 a.m. - 5:00 p.m.
Just like in yoga, a strong foundation is necessary to further culinary abilities. Basics 1 teaches the ABC's of menu planning and how to create nutritious balanced meals. The principles will be demonstrated through a variety of cooking techniques. The class will conclude with a satisfying vegetarian meal.
Suggested Pure Yoga class: Alignment Basics
Detox 1 or Detox 2, Date options: Tuesday, February 4th, 2014 6:30 - 9:30 p.m. or Thursday, March 20th, 2014 6:30 - 9:30 p.m.
Often times, we focus our yoga practice on ridding the body of the everyday (and holiday) toxins that build up in our bodies. Food is also an excellent tool for detoxification. In 5 Different Ways to Detox Michael Perrine (Feb.4) will discuss the basics and benefits of 5 cleanses: diet transition, fasting, colon cleansing, liver flushing and infrared saunas. He'll also debunk myths, discuss safety, and demonstrate how to differentiate bona-fide health claims from sales hype. In Spring Detox Marcia Berry (Mar. 20) will discuss the roles of the organs of elimination – what they're up to and what they need – and discover the energy-building, health-promoting properties of foods that help cleanse the body of toxins. Students will receive instructions for a basic liver cleanse, take home recipes for remedies that are natural and easy to prepare, and receive a wealth of information on how to keep the body clean and strong all year long.
Suggested Pure Class: Hot Slow Flow
Please register at bit.ly/ngiyogi and email with questions.
Promotion is available from November 29th to December 31st, 2013.
About Natural Gourmet Institute
Founded in 1977 by Dr. Annemarie Colbin, Natural Gourmet Institute (NGI) is the international leader in health-supportive culinary education. Natural Gourmet Institute's Chef Training Program is a comprehensive, professional program that trains students to meet the growing demand for culinary professionals who excel at the preparation of delicious, nutritionally-sound cuisine. Natural Gourmet Institute also offers public intensives, hands-on instruction, demonstrations and lectures for the healthy cooking enthusiast. On Friday night, the school is transformed into an elegant dining room and opened to the public where NGI's Chef Training Program students and instructors prepare a three course vegetarian Friday Night Dinner that is innovative, delicious and beautifully presented.
About Pure Yoga
Pure Yoga is Asia's premier brand of yoga studios with five locations in Hong Kong, one in Singapore, one in Taipei and two in New York City: on the Upper East and Upper West Side. Pure Yoga launched in 2001. A wide variety of traditional and contemporary yoga practices are offered and taught by passionate, certified teachers. Beginners' workshops are organized every month to encourage newcomers. Workshops for all levels with internationally-acclaimed guest yoga masters, retreats in idyllic locales, and teacher training programs are all part of providing students with the most rewarding yoga experience possible.