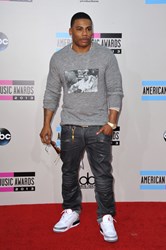 Los Angeles, CA (PRWEB) November 27, 2013
Rapper Nelly cruised along the red carpet in Robin's Jean Motard 3D charcoal at the American Music Awards held on Sunday, November 24th at the Nokia Theatre in Los Angeles, California.
The artist gave the audience at the 2013 American Music Awards a welcomed surprise when he joined country band Florida Georgia Line on stage, which made the show come to life. Celebrity stylist Seannita Parmer, often shops Robin's Jean for stand-out pieces and selected the stage-worthy styles for Nelly's AMA appearances.
After joining the band to perform their hit song, 'Cruise,' Nelly took center stage in another pair of Robin's Jeans, the Motard cuir double black jean in black wax coating, then segued into his 2001 single, 'Ride Wit Me.' The song was one of his biggest hits off his biggest-selling album, the nine-time platinum effort, 'Country Grammar.' Later, the St. Louis rapper and Florida Georgia Line won the Single of the Year award for 'Cruise.' Congrats to Nelly and Florida Georgia Line!
Robin's Jean features a unique collection of jeans, jackets, tops, hats and belts for men and women designed by Robin Chretien. Represented by the gold wings logo, Robin's Jean captures Robin's childhood dream of freedom and flight. Robin arrived in Los Angeles in 1996 and by 2005, he decided to incorporate his passions for designing clothes, riding motorcycles and vintage cars with his fascination of Native American Indians to create his own line, Robin's Jean. The brand is Made in the USA with four Robin's Jean Flagship store locations; Beverly Hills, CA; Soho, New York; Laguna Beach, CA; and Ibiza, Spain, and more to come!